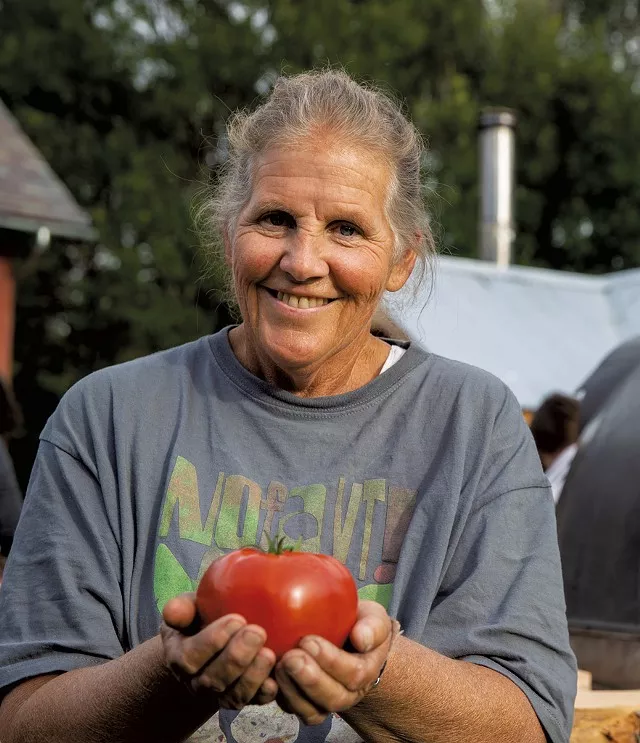 File: James Buck
Enid Wonnacott
Enid Wonnacott, longtime executive director of the
Northeast Organic Farming Association of Vermont
and a deeply committed advocate for organic farming and the agricultural community at large, died Saturday morning at her home in Huntington surrounded by family and close friends.
Wonnacott, who was 57, was diagnosed with breast cancer in 2014. In early October of last year, she stepped down from the position she had held for more than 31 years due to progression of the cancer. News of her death was confirmed by Kim Mercer of NOFA-VT, who said plans to honor Wonnacott are still being determined.
During an interview with
Seven Days
for an
October 31, 2018, article
, Wonnacott shared highlights of her career, capped by her induction into the Vermont Agricultural Hall of Fame last summer.
The Weybridge native began her tenure at NOFA-VT in 1987, inheriting one milk crate and one filing cabinet. Over her long career, she worked closely with Sen. Patrick Leahy (D-Vt.) to develop the
National Organic Program
; championed a robust farm-to-school partnership in Vermont that became a national model for broadening access to local and organic food; and led the organization with an open-minded approach that made room for everyone at the table.
"Enid has been one of the most effective advocates for organic agriculture in the entire country," Leahy told
Seven Days
via email in October.
"She proved that you can be a really strong leader and smile all the time, and find time to go ice skating and be kind," said Megan Camp, vice president and program director at
Shelburne Farms
, in an interview for the same article.
Beyond her work in agriculture, Wonnacott will be remembered as a beloved teacher and field hockey coach; an outdoorswoman who loved to solo walk, ride horseback, cross-country ski and skate; and a devoted friend, parent and partner known for her ready laughter, singing and generous bear hugs.
She radiated warmth like the traveling NOFA-VT pizza oven in which she delighted for its capacity to bring people together around food. "I'm passionate about community building," she told
Seven Days
.
Wonnacott had spent the past few weeks in Captiva, Fla., with family, most recently updating and thanking her vast network of friends and supporters on January 9 with photos of kayaking in mangrove swamps. "I have found the warmth of the sun, the sound of the ocean, the diving pelicans, and the dolphins to be so healing," she wrote.
As news of her death rippled through the community, coworkers, mentees, farmers, colleagues in the nonprofit sector and friends shared memories and appreciation for Wonnacott's contributions.
Abbie Corse, a sixth-generation dairy farmer from Whitingham whose family made the transition to organic a decade ago, said Wonnacott had recently sent her a personal note thanking her for applying to serve on the NOFA-VT board at an especially critical time for the representation of dairy.
"The things that strike me when I think about my interactions with Enid," Corse reflected in an email, "were her eye contact, her hugs, her sincerity and ability to stand with you in the midst of a crowded room and still make you feel as though you had her attention to yourself."
Organic vegetable and berry farmer Eugenie Doyle of Monkton shared a detailed tribute to Wonnacott, whom she has known for more than 30 years. "She modeled inclusivity, casting a wide net with programs and legislative support that would help all Vermont farmers," Doyle wrote in an email. "On her watch the farming community has become less polarized, and how many arenas of current life can boast that?"
Doyle noted that, at Wonnacott's request, she will present on a panel about farms transitioning between generations at the upcoming
NOFA-VT winter conference
from February 16 to 18. "She was eager to explore the subject of transitions, I suppose, both because she saw it as crucial to the survival of farming in Vermont, the survival of the legacy of organic farming pioneers," Doyle wrote, "and also because she was conscious of her own transitions as she faced retirement from NOFA and as she faced death."
Doyle said she aspires to accomplish her own transitions as gracefully as Wonnacott did.
Although no memorial event for Wonnacott has been announced yet, the February conference, hosted at the University of Vermont's Dudley H. Davis Center, will undoubtedly feature an opportunity for remembrance.
"I don't think there's an inside venue large enough for her memorial, but I suppose the winter conference will be just that," Doyle wrote. "There's going to be an Enid's Orchard project with over 30 of us 'older' farmers planting an apple tree on our farms in her honor. I think she'd like that."