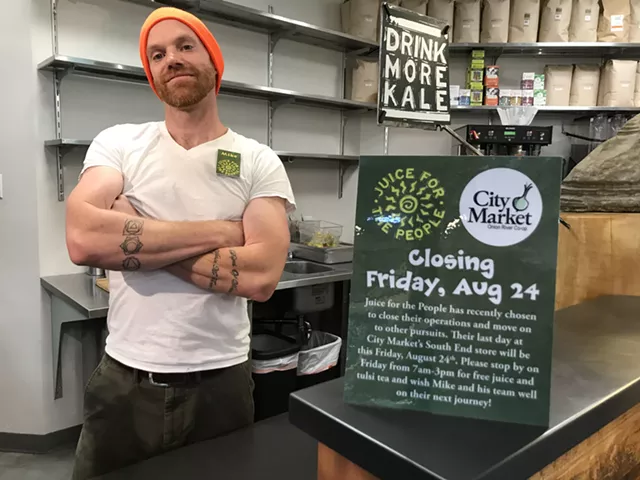 Sally Pollak
Mike Winters of Juice for the People
Mike Winters has been an art teacher, a divorce lawyer, a juice-maker and a vegetable farmer. The latter two gigs are joined via Winters' business,
Juice for the People
, in which he makes juice using vegetables and herbs that he grows at a farm at the Intervale in Burlington.
Now Winters is ready to move on again. He is closing his juice business, which operates as a concession at
City Market/Onion River Co-op
in Burlington's South End, on Friday, August 24.
"I'm feeling the itch," Winters, 45, said. "I'm done. I'm going on year seven and it's time for the next chapter in life." Winters said he will finish out the season at his farm, which he began five years ago, before calling it quits there, too.
Winters and his business partner, Steph Steeves, started Juice for the People — originally called the Juice Bar — in 2012 at the
Burlington Farmers Market
. A mobile business, it operated for two years at Burlington Town Center and later set up shop in the parking lot of the downtown City Market.
When the co-op opened a second store last November on Flynn Avenue, Winters established a permanent space by the deli. On Friday, his last day of business, Winters will offer free juice from 7 a.m. to 3 p.m. Juice ingredients grown on the farm include kale, cucumbers, purple carrots, beets and tulsi basil. The fruit from his pear tree is ripe, Winters said.
"It's been a good run," he said Thursday afternoon. "I need some chill time. I'm looking for balance in my life."
Winters plans to start a job at the Howard Center , where he said he will work for its jobs program,
Project Hire
. A resident of Burlington's Old North End, Winters intends to run for mayor of Burlington in the next election in 2021, he said.