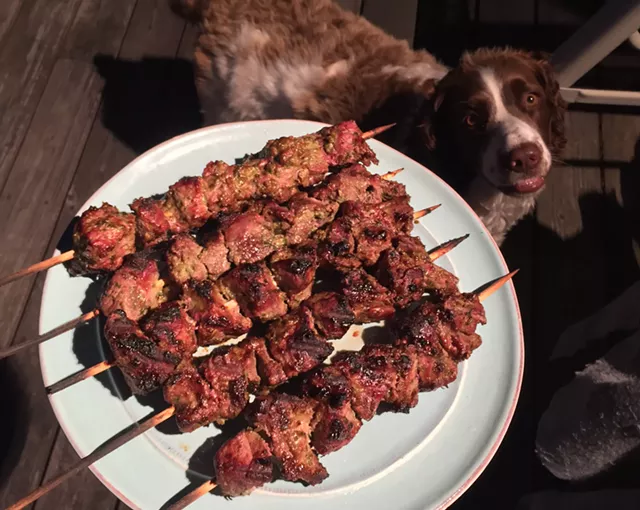 Hannah Palmer Egan
Sesame beef skewers (and a hungry dog)
Here's an idea: It's sticky and gross outside, so let's grill.
In my non-air-conditioned old farmhouse, this weather calls for dinner outside. Most days, the sun is waning and the evening breeze has picked up by the time we get around to cooking dinner.
Last Friday I headed to the
Chelsea Farmers Market
, just over the hill from my house. Chelsea's is a small market, and a lot of the farms are one- or two-person operations. So, at this point in the season, many of the vendors are selling the same things I'm harvesting from my own garden.
Still, the chance to bump into folks in my regional farm community, and to partake in a few awesome specialty products — including a cool and creamy cup of goat's milk gelato from
Sweet Doe Dairy
— make market visits a treat every time. With hot days in the forecast, I grabbed a package of Angus beef kebab meat from
Allenville Farm
and earmarked it for Monday's dinner.
I've been into cooking with sesame oil this summer, and last night's sesame beef kebabs were fragrant with sesame, briny and pungent with garlic and green onions, and kissed with smoke and a splash of maple. I served them with ginger-garlic fried rice and kale dressed with miso and tahini. But they'd go over just fine paired with whatever you like to eat with your barbecue.
Happy heatwave!
Sesame Beef Skewers
Serves 4
Ingredients
2 pounds beef

1/4 cup tamari

3 tablespoons toasted sesame oil

1-2 tablespoons extra-virgin olive oil

1 tablespoon rice vinegar

1 tablespoon maple syrup

2 tablespoons grated garlic or garlic scapes

1 tablespoon minced green onion

1-2 tablespoons grated ginger (optional)
Preparation
Cut the beef into one-inch pieces and place in a bowl. Douse with the tamari and mix the remaining ingredients in a small bowl, then pour over and turn until the meat is well coated. Marinate 30 minutes or overnight.

Grill over medium heat, 5-10 minutes on each side, or until cooked to desired doneness.

Serve with whatever you like!