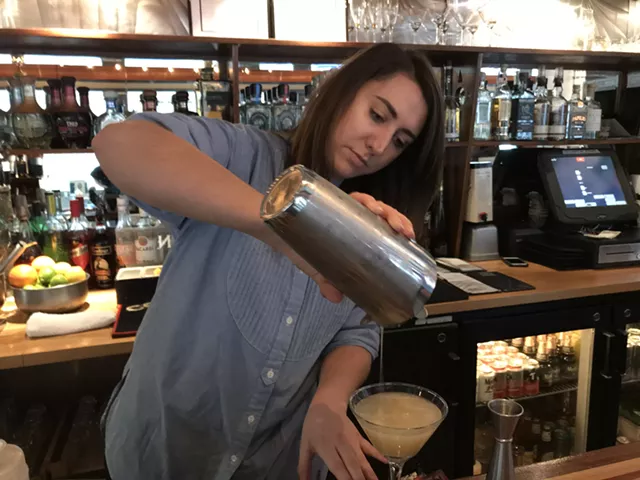 Sally Pollak
Sarah Barry at El Cortijo
At
El Cortijo Taqueria y Cantina
in Burlington, where Sarah Barry is general manager and a bartender, she can mix a margarita in less than 60 seconds.
"I bet anyone who works behind the bar here can make a margarita in under a minute," said Barry, noting that the bar is set up for margarita-making. Pouring an old-fashioned could take up to two minutes, she said.
The time it takes to mix a drink is on Barry's mind as she anticipates competing in
Speed Rack
, a women-only bartending contest coming to Boston on Sunday, March 11. Barry will be the only Vermont competitor among about two dozen female bartenders.
The event, a fundraiser for breast cancer organizations, was founded in 2011 by Ivy Mix. She's a Tunbridge native and prizewinning bartender whose honors include 2015 Best American Bartender at
Tales of the Cocktails
. Mix currently lives in New York City and is co-owner of
Leyenda
, a cocktail bar in Brooklyn. Speed Rack is held annually in cities around the country, from Seattle to New Orleans to Washington, D.C. Each year, the competition raises about $100,000 for breast cancer research, education and prevention, according to its website.
Competitors are judged on speed, racing the clock to mix their drinks in a series of competitive rounds. "Essentially, they say, 'Go,'" Barry said. But quality plays a role in the competition, too. The drink has to taste like it should. "If you say it's a margarita, it's got to be a margarita," she explained.
Barry grew up in Westminster and moved to Burlington after graduating from Skidmore College, where she majored in English and sociology. A year after getting a job as a server at
Leunig's Bistro & Café
she began training to become a bartender.
"I love cocktails, and I realized that it was a way to be creative," Barry said. She soon developed a love for making drinks that was "more than I ever anticipated."
About four years ago, she began working for the
Farmhouse Group
and has held positions at several of its restaurants. She started at El Cortijo last fall and fills in on occasion at Leunig's.
"Everyone seems to have two jobs in Vermont," Barry said.
She has poured drinks at charity events and, last spring, earned the judge's prize at the Great Shakes Cocktail Competition for her cocktail Mind Your Own. The drink featured
Caledonia Spirits
Tom Cat gin and was served in a glass rimmed with beeswax.
Barry became interested in Speed Rack after she saw Mix present a cocktail demo at
Waterworks Food + Drink
last fall in Winooski. She applied for the competition and said she was very excited to get in but is growing nervous as the event nears.
"There's a lot of tough ladies in this industry who work really hard, and people automatically respect that," Barry said. "They're getting recognition and running projects. It's awesome to see."