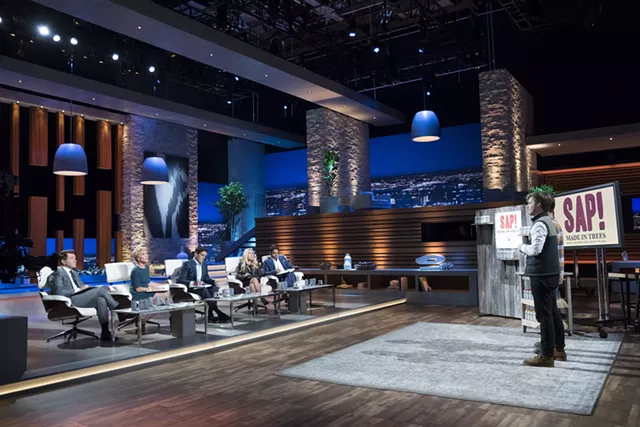 COURTESY OF DISNEY ABC
Chas Smith pitches Sap! on "Shark Tank"
Update, January 29, 2018: Sap! did not strike a deal Sunday night on "Shark Tank," though the Burlington-based company did receive an offer of $600,000 for a 30-percent ownership stake. The local entrepreneurs countered with 20 percent, but in the end no deal was made.

When the founders of
Sap!
got an email last summer about the possibility of being contestants on "
Shark Tank
," a reality TV show that matches businesses with ultra-rich investors (sharks!), they thought it was a joke. But a follow-up phone call convinced Chas Smith, who owns the Burlington-based soft drink company with his cousin, Nikita Salmon, that the email was not a scam.
Smith and Salmon decided to give TV-entrepreneurship a go, and they completed an application to compete on "Shark Tank." Within three weeks, the Vermonters found themselves in front of the cameras at Sony studios in Culver City, California. They pitched their product — carbonated beverages made from maple sap and birch sap — to five tycoons who either did or didn't make a deal with them. The segment will air Sunday, January 28, at 10 p.m. on
ABC
.
"I would say it was exhilarating," Smith said. "There was a lot of adrenaline, a lot of buildup. In terms of an experience to have, it's once-in-a-lifetime."
Smith and Salmon, 28-year-old third cousins, started their business in 2015, merging family expertise and experience. Salmon grew up on a farm in Enosburg, where his parents produce maple syrup. As a boy, he and his brother helped with sugarmaking using the traditional method of horses and buckets. Salmon is a snowboarder who competed on the national circuit when he was a teenager. He purchased his grandparents' farm in Underhill several years ago, where he has a 300-acre sugarbush with about 12,000 taps.
Smith, a graduate of Burlington High School, left Vermont for college at
Elon University
in North Carolina. He returned to attend graduate school at the
University of Vermont
, where he earned a
sustainable innovation MBA
. Then he and his cousin launched Sap!, which has grown since its founding from sales in 10 stores to about 1,000, according to the company. Last year, using sap from 40 or so local sugarmakers, Sap! produced almost 1 million cans of beverages — drinks that are canned at
Woodchuck Cider
in Middlebury.
"It's one thing to tap a tree and drink sap," Smith said. "It's another thing to scale up a sap operation and get it into cans and have it taste good. Woodchuck has state of the art equipment, and they were a really key partner for us in getting off the ground."
COURTESY OF DISNEY ABC
Nikita Salmon (left) and Chas Smith on the set of "Shark Tank"
On Sunday night's episode of "Shark Tank," about seven minutes of a 90-minute interaction with the TV tycoons will be broadcast, the cousins said. "You basically have about a minute-and-a-half to make a pitch in the beginning," Smith said. "Then the gloves are off, and it's completely open season with the sharks asking the questions."
The TV sharks include
Dallas Mavericks
owner Mark Cuban and New York City realtor
Barbara Corcoran
. On the Sap! episode,
Rohan Oza
, a beverage-branding whiz, was a guest shark.
The cousins haven't seen their TV performance but they know the outcome — and they're not talking. Tune in Sunday to find out if Sap! will get a sweet infusion of out-of-state cash.