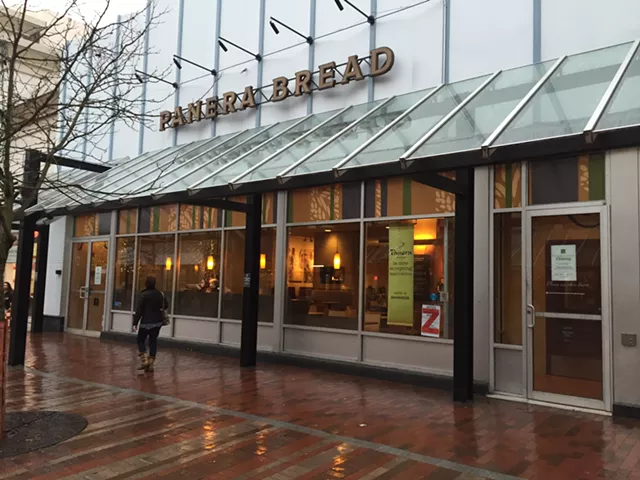 SALLY POLLAK
Panera Bread
Panera Bread
, which opened on Burlington's Church Street in September 2011, will close Monday, manager Alex Haller confirmed. A sign on the front door announces the closure.
"We were told last night," Haller said Friday afternoon, adding that the 20 or so employees of the downtown restaurant were offered jobs at the two other Paneras in the area.
Haller has worked at Panera since it opened on the Church Street Marketplace, and said he is sad the restaurant will close. "I love it down here," he said. "But my job is secure."
The space will be taken over by
Outdoor Gear Exchange
, according to a news release from the locally owned camping, recreation and clothing store.
"We are grateful to the community support we've had for the more than 23 years we've been in business in Burlington," said Marc Sherman, co-owner of OGE, in the Friday morning release.
Outdoor Gear Exchange opened on Main Street in 1995 and made two more downtown moves before settling into its current quarters in 2011. Its expansion to the neighboring space — which will add 4,400 square feet to the store — is expected to be complete in the spring, according to Sherman.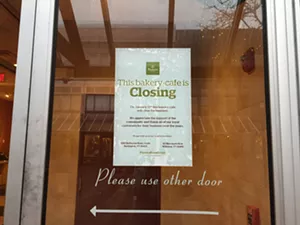 sally pollak
Panera Bread sign
"We're excited for this opportunity, and very thankful for the way the community has supported us for more than two decades," Sherman told
Seven Days
Friday afternoon
.
The additional space will double OGE's window frontage on Church Street, he noted. There will be more room for warehousing, web operations, and "off-season clearance products," Sherman said.
OGE's expansion comes at a time when branches of national chains are closing downtown. Panera's is the third chain to announce in the past month the closure of its Church Street Marketplace location.
Macy's will close in March
and
Bruegger's Bagels closed in mid-December.
"I think what it says is that Burlington supports local businesses more than it supports national chains," Sherman said. "And that national chains, while they have an important place in our marketplace and downtown, do not have as much of an investment in the community as local stores do.
"As a result," he continued, " local stores are able to take risks and weather economic ups and downs in a way that national chains can't."