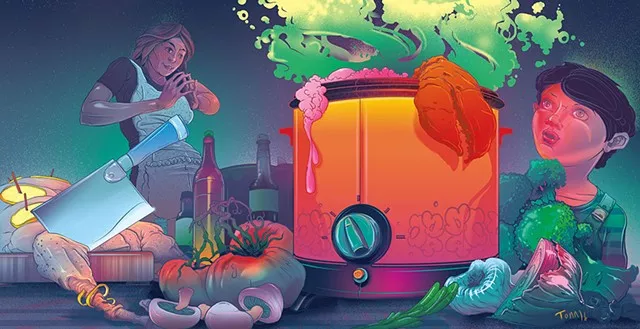 During the winter doldrums, how and what we eat seems particularly important — whether to offset holiday excesses, fulfill New Year's resolutions, or find comfort from the cold. Whatever food indulgences we allow between Thanksgiving and New Year's Eve, most of us approach January with a little culinary restraint — and maybe ramp up the gym time.
A glimpse through the
Seven Days
archives reveals that our food writers past and present have different ways of dealing with dining in January. Here's a brief recap.
Longtime readers likely remember Alice Levitt for her larger-than-life persona and love of meat (her Vermont vanity plate read "bulgogi," referring to the Korean beef dish). But a January 2015 story was all about fresh produce. She even assembled a few coworkers for a
juice tasting
.
taco cleanse
." How did that go? Not exactly as expected.
a bit of a reboot
without fasting. Her recommendations: astringent, acidic and bracing foods, such as bitters, lemon juice and curries.
slow-cooker recipes
.
hottest Vermont food trends
.
Happy New Year!