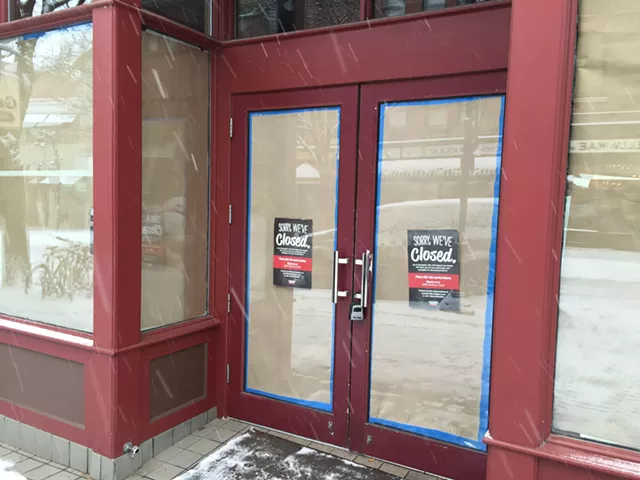 SALLY POLLAK
Bruegger's Bagels on Church Street in Burlington
Bruegger's Bagels
closed its
Church Street Marketplace
restaurant on Sunday after more than a quarter-century in business. The bagel restaurant opened in the Howard Opera House about 27 years ago, said Steven Schonberg, co-owner of the building.
"They're a very familiar, longtime tenant that I'm sure lots of people will miss," Schonberg said. "However, as you can see, Church Street continues to prosper. We fully expect to be able to lease it to another high-quality tenant that will bring its own unique benefit to Church Street."
Bruegger's was founded 35 years ago by Vermonters Nordahl Brue and Michael Dressell. Its ownership changed over the years, including Bruegger's acquisition earlier this year by
JAB Holdin
g Company
, a private company whose properties include
Keurig Green Mountain
,
Panera
and
Caribou Coffee
, according to the company website.
The first Bruegger's Bagels opened in Troy, N.Y., in 1983. The founders "wanted to learn how to operate a restaurant from a distance," said Ron Redmond, executive director of the Church Street Marketplace. Bruegger's grew to be a national chain that includes a location in Shelburne, which remains open.
Its closing in downtown Burlington is "typical of the cycle that happens on Church Street where you have stores coming and going," Redmond said. "If you think of all the stores that were on Church Street 30 years ago, the scene is much different."
Schonberg said he hopes to have a new tenant occupy the Bruegger's space soon, but has no specific business in mind.
"We work hard at trying to get tenants that will add a dimension that may not be here otherwise," he said. "That will certainly be our goal."
Seventy-five percent of the businesses on the Marketplace are locally owned, up from 65 percent a year ago, according to Redmond.
Bruegger's closing was
reported Monday in the Burlington Free Press
.