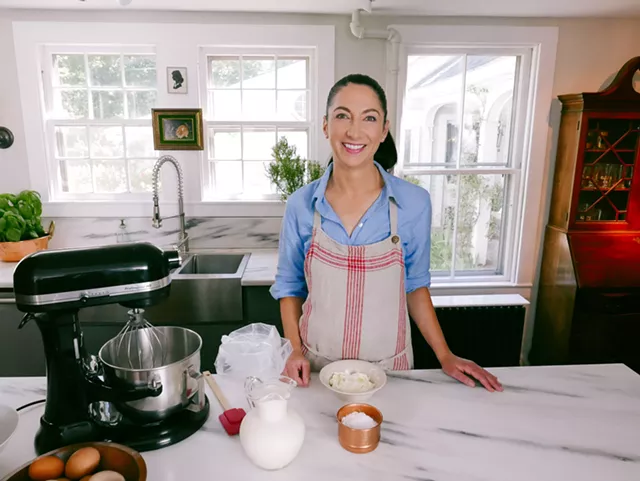 COURTESY FOOD NETWORK
Gesine Prado on "Baked in Vermont"
"Baked in Vermont
" will make its debut on the
Food Network
on Saturday, December 2, at 12:30 p.m. The show is hosted by Vermont pastry chef, teacher and cookbook author
Gesine Prado
.
Prado lives in an 18th century farmhouse in Hartford with her husband and their animals. The six-episode first season was shot at her home, where Prado also teaches baking classes at
Sugar Glider Kitchen
.
Prado, 47, has lived in Vermont since 2004 and previously owned a bakery in Montpelier, Gesine's Confectionary. Although she has worked with the Food Network on other shows, "Baked in Vermont" is her first starring role for the network.
"It was kind of a dream situation," she told
Seven Days
by telephone. "They actually knew a lot of my work and things that they would love to see me do. It was a really nice collaboration."
The first episode is a holiday-themed show, "A Very Vermont Holiday," in which Prado throws a gingerbread party for guests — including her friends from elementary school and college, and their children. "We got to play," she said.
"When I was in college I used to make gingerbread cookies," said Prado, who attended the University of Virginia. "It was an indicator that I was barking up the wrong tree. People remember me baking instead of studying," she continued. "Sometimes you should heed that warning earlier on, but I eventually got there."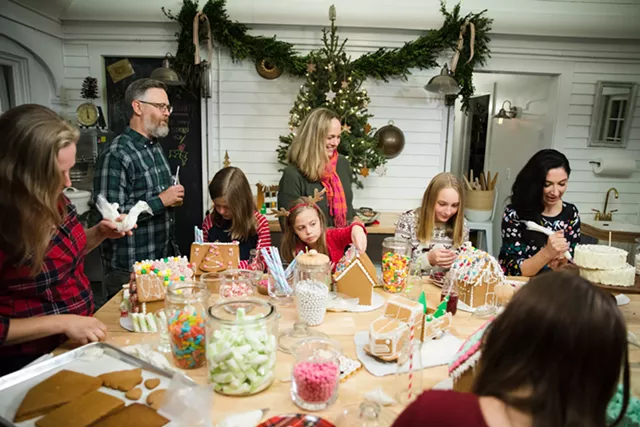 COURTESY FOOD NETWORK
Gingerbread party on "Baked in Vermont"
In a future episode, Prado hosts her local knitting group and prepares finger food, including cheese puffs and steak hand pies. Baking and knitting share certain characteristics, according to Prado. The activities combine precision and art — and require a dash of patience.
"But baking is kind of like the Buddhist sand mandalas," she said. "They're meant to go away. You're meant to destroy them. Hopefully, you can keep knitting around for a while."
Prado will prove that possibility on the air when she shows the audience a sweater she knit in the 1980s. "It will be revealed in its garish glory," Prado said.
"Baked in Vermont"
will also feature an episode in which Prado feeds members of the Dartmouth College football team. Her husband, Ray Prado, played center for the Big Green and every year he mentors some Dartmouth players, Prado said.
The student-athletes visit the Prados' home in real life — and now on TV. For the TV episode, Prado made the football players hand-raised English pork pie. The savory dish uses no pie plate; the crust serves as an edible vessel for the filling.
"It's a very cool crust that Americans never make," Prado explained. "It's fast and easy and incredibly tasty — and such a great chilly weather meal." The pork pies are "cute little packets of dough and meat," Prado said. "The kids chowed down."
She also made a selection of "great sweet treats" for the players, including a surprise that will be revealed on the show. "People will say, 'Is that magic?'" Prado predicted.
Prado said she'd be pleased to continue "Baked in Vermont" beyond Season One. She'd love to make a sugaring show and has ideas for other Vermont-themed-and-inspired productions.
"We have such a wonderful culture, period, in Vermont," Prado said. "And our food culture is so strong, it's kind of easy to talk about. I am so excited to keep doing this. My mind is bursting with what I love here. The list is endless."