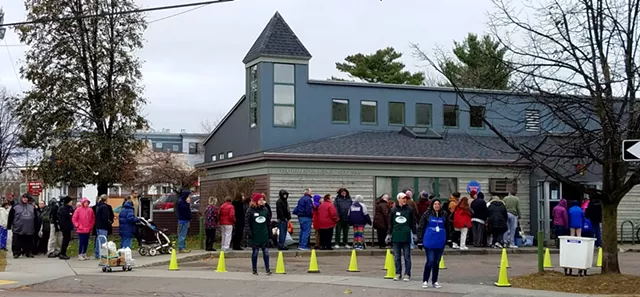 ANNA McMAHON/FOOD SHELF
Waiting in line for turkeys at the Chittenden Emergency Food Shelf
A week before Thanksgiving, the
Chittenden Emergency Food Shelf
still needs about 2,000 turkeys to reach its goal of 3,500 turkeys to give people in need for Thanksgiving dinners, according to Rob Meehan, executive director of the nonprofit on North Winooski Avenue in Burlington.
Meehan said he expects the food shelf will receive a substantial number of donations in the days before Thanksgiving, as it has in years past. He anticipates the goal will be reached.
"That's awesome," he said. "And we are trying to use this time to raise as much money as we possibly can. I don't think people understand the scope of our work and the impact it has. It costs a lot of money to feed hungry people."
The Chittenden Emergency Food Shelf gives away more than two million pounds of food a year, Meehan said. In that time, hungry people make more than 50,000 visits to the food shelf, he noted. In addition, the organization reaches about 4,000 people a year through its mobile food truck, the
Good Food Truck
, and serves about 5,000 meals a month to people at its Burlington building. The diners range from transients to people who are living in their cars nearby the food shelf.
"There was a time when we had a safety net and it worked," Meehan said. "Now it falls on us, and we have to shoulder the burden and raise the funds every year."
His organization simply doesn't have the resources to meet the breadth of needs of all the people it feeds, he said. Some are individuals and families who have nowhere to go and need of an array of services.
"We have the food and we're nice, but we don't have the facilities — we're not a hospital," Meehan said. "That, to me, is the underlying story in America. And we're seeing it in our nice little community."
The Chittenden Emergency Food Shelf has an annual budget of just more than $1 million. Of that, 65 to 70 percent is from individual donors, Meehan said. The remainder comes almost entirely from foundation grants.
Meehan said he is looking forward to Wednesday at lunchtime, when the seasonal "madness" dies down and the food shelf serves a community Thanksgiving meal. He called it a sweet and special occasion.
"We're here all the time, all year long," Meehan said. "People are hungry and the numbers are growing, and food stamps are being cut. Round and round we go, on the treadmill of trying to feed the hungry."
Turkeys and other food, as well as financial contributions, can be delivered to the food shelf at 228 North Winooski Ave. Donation hours are: November 16 and 17, 8 a.m. to 6 p.m.; November 18 and 19, 10 a.m. to 2 p.m. ; November 20 to 22, 8 a.m. to 4 p.m.
In addition, there will be turkey drop-off at
Bluebird Barbecue
, 317 Riverside Ave. in Burlington, on November 19 from noon to 4 p.m. People who donate a turkey will get a smoked turkey leg. DJ Craig Mitchell will be spinning tunes.