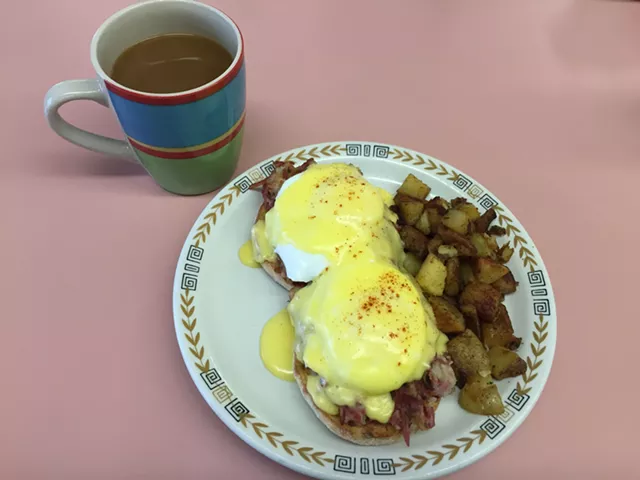 SALLY POLLAK
Eggs Benedict with corned beef hash
The other day I unexpectedly discovered a new sign of aging: the inability to eat both halves of eggs Benedict at 8:30 in the morning. (It's still probably doable by 11.)
I was sitting at the pink counter of Malletts Bay Diner & Bakery in Colchester with a perfect-plus specimen of the meal before me. The food was perfect because each egg rested like a puffed-up pillow on its split of English muffin, ready to squirt and ooze with the first prick of my fork. The hollandaise sauce was thick and dripping over the edge, topped by a sprinkle of paprika.
The plus in the equation — the benny of the Bene — peeked out between egg and muffin: house-made corned beef hash. Pam Scanlon, owner of the diner, came over to talk with me about her recipe and her restaurant before my first bite.
"Have you had our hash before?" Scanlon asked. "I cook the brisket for four hours-plus."
We talked braising, spices and diced white onion. I noted that one of the delights of her hash was that the corned beef kept its texture — it was chunky and tender, not mushy.
Scanlon moved her business to Colchester in early June from Burlington, where she ran Pearl Street Diner and Radio Deli. On Pearl Street, Lyle Lovett was an occasional customer, eating at the diner when he played in Burlington. Lovett liked the Hungry Hipster: pancake, eggs, bacon, home fries and toast, Scanlon said.
Cook Sean Drumm made the move to the suburbs with Scanlon. He joined our conversation to explain that water temperature — between a simmer and a boil — is the key to perfect poached eggs.
Most people order their eggs scrambled or over-medium, Drumm said. But some have a strong preference otherwise. "People that want runny," he said, "man, they want runny eggs."
A regular from the Burlington days arrived and took a seat at the counter. Gerry Malavenda, who lives in Williston, makes the trip to Malletts Bay for a meal twice a week.
"I was going to the old place and it was a hard move," Malavenda said. "Because breaking up is hard to do." He likes the chorizo scramble with cheese, potatoes and hollandaise.
"It holds me for three days," Malavenda said.
As I was getting ready to leave I asked to pack up my lonely egg. Scanlon treated me to the perfect dessert: a taste of her pear-pecan muffin fresh from the oven.