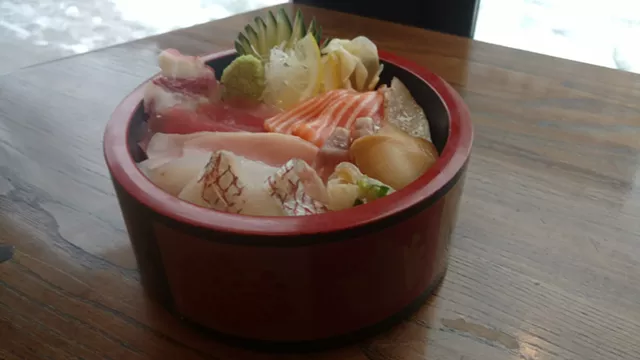 COURTESY OF BENTO
Chirashizushi
As anyone who can read the writing on the wall knows, a Japanese restaurant is coming to town.
The writing, actually, is on a glass door at 152 Cherry Street in Burlington. A sign posted on the inside of the door announces the arrival of Sushi Maeda, "coming soon."
The restaurant will bring together chef-owner Mike Maeda with two chef-apprentices, Patrick Dougherty and Nick Eddy, according to Eddy. The three work together at
Bento
on College Street, a small Japanese restaurant that Maeda owns. He also was a partner at San Sai Japanese Restaurant near Waterfront Park, which closed two years ago.
Sushi Maeda will be a 300-seat restaurant in the space formerly occupied by
Outdoor Gear Exchange
before that store's move to Church Street. The design calls for dividing the restaurant into various smaller sections within the whole, Eddy said.
"There will be multiple offerings," Eddy explained. "We're going to be doing sushi, rice bowls, ramen and dumplings." Among the menu highlights will be robatayaki, which is a style of cooking meat, fish and vegetables on a skewer over a charcoal-fired grill.
The sushi bar will be "high end, like you'd find in New York or Los Angeles," Eddy said, adding that fish will be trucked from a supplier in Boston.
Eddy, a former U.S. Marine, is enthusiastic about working with Maeda. "He's one of the most patient, knowledgeable guys I've ever met," he said. "A real serious man but also super-fun."
Maeda was a co-owner at San Sai at 112 Lake Street with Chris Russo. After the restaurant closed, the building was renovated and
Foam Brewers
opened there in the spring of 2016.
Eddy said he doesn't yet know when Sushi Maeda will open.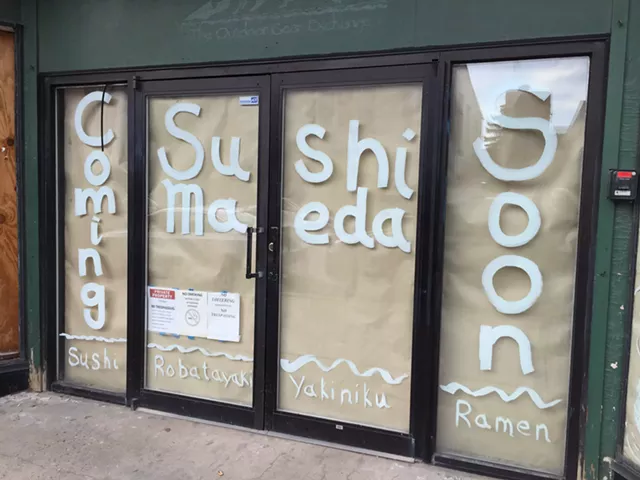 SALLY POLLAK
Sushi Maeda sign on Cherry Street in Burlington