SALLY POLLAK
Pastry case at Chef's Corner in Williston
Maybe it was the gray-haired group in the corner talking about cholesterol levels. Or it could've been my inability to choose among maple cheesecake, blueberry scones, croissants, peanut butter pie and pumpkin roll with spiced cream cheese frosting. Or, possibly to rip off the book
Goodnight Moon
, I was simply in the mood for a bowl of mush.
For whatever reason, or no reason at all, I ordered oatmeal ($8.25) on a recent morning at
Chef's Corner
. The Williston café and bakery moved in August from its longtime home next to
Lenny's Shoe & Apparel
to a different mini-mall in the same town. (Another small branch is located in the Flynndog building in Burlington's South End.)
Chef's Corner has plenty of options on its breakfast menu that are saltier, sweeter, prettier and, let's face it, tastier than oatmeal. To address that issue, I ordered a side dish of coconut panna cotta with passion fruit topping ($4). A mega-mug of latte with a sugar cookie ($4), almost a meal in itself, was my first course.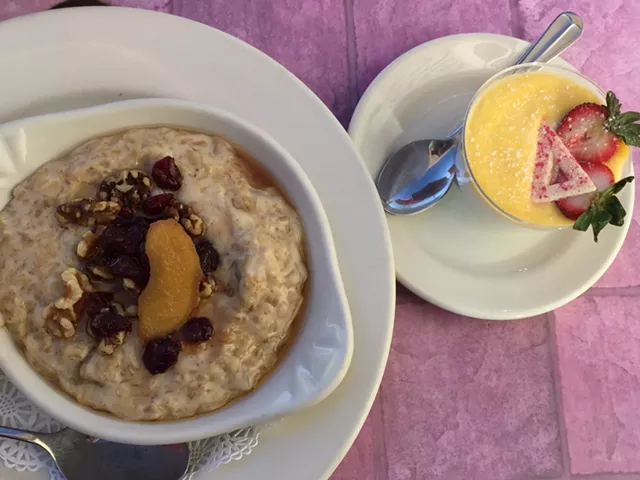 SALLY POLLAK
Oatmeal and panna cotta at Chef's Corner
A bowl of oatmeal is a treat on a cool morning, but this day was warm enough for an al fresco breakfast on the restaurant's deck. The oatmeal at Chef's Corner is a satisfying riff on the classic: thick cereal made sweet and sticky with maple syrup, and topped with apple compote, dried cranberries and walnut pieces. I added a dollop of passion fruit from my panna cotta to the mixture, delivering a bright, tart edge to my bowl of mush.
We used to stop at Chef's Corner for cookies after buying sneakers at Lenny's. Now we can skip the shoes and go straight for the food. I'm thinking ham and Swiss quiche for my next breakfast.