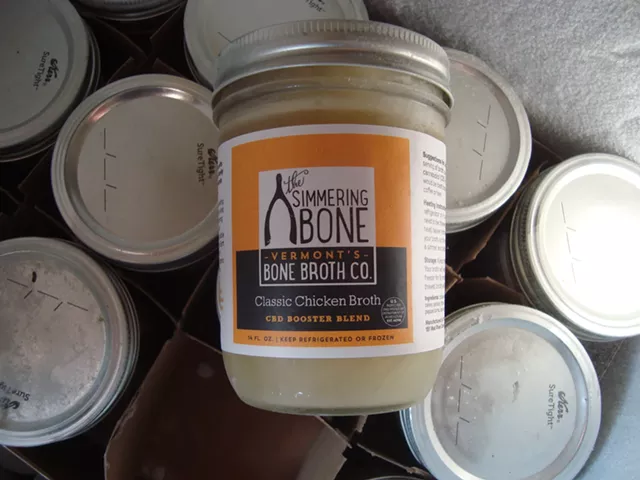 PHOTO COURTESY OF VAAFM
A jar of recalled chicken broth
Jars of meat and poultry broth that were infused with CBD, a chemical compound found in cannabis, have been voluntarily recalled by the
Simmering Bone
, the company that made them, according to the
Vermont Agency of Agriculture, Food and Markets.
Four jars of broth were sold at the
Vermont Hemp Fest
in Burke on September 9, according to Rachel Collier, who made the broth and owns the Simmering Bone. About 50 additional jars were never put on store shelves or sold, she told
Seven Days
.
The violation involves labeling and adulteration of the product, according to the agency. The broth was made at the
Mad River Food Hub
in Waitsfield, where the product was inspected by the USDA. Collier then added the CBD in her home kitchen in Essex and labeled the jars, she said. Her mistake was using labels that included the USDA legend, she said.* Collier said she was unaware this was a violation of USDA regulations.
At issue is the fact that CBD is not recognized by the USDA or the FDA, said Trevor Audet, a spokesman for the AAFM in Montpelier. The product is legal to use in the state of Vermont, and an increasing number of food and drink companies are adding CBD, or cannabidiol, to their products.
"What was inspected wasn't what was in the jars," Audet said. "They didn't have the correct USDA inspection."
Eric Holmgren is an investigator with the agency who handled the case. He said he identified two violations: misbranding and adulterating the product.
"The CBD oil is not allowed in meat or poultry products, and it's not generally recognized as safe by the FDA," Holmgren said. "Any ingredient going into a meat or poultry product has to be recognized as safe."
Had the CBD oil been in the broth when it was inspected, it would not have passed inspection, he said.
Collier said she sometimes adds a "booster" to her products to enhance their health benefits. For example, she will put a lemon-sage-milk booster in chicken broth and add the mixture after the broth is made at an inspected facility. She is able to do this if she sells the broth directly to consumers, Collier said.
She used the same method with the CBD booster. "It was an oversight on my part," she said, referring to the labeling. Collier believes the product is safe to consume, and said that her family drinks it.
The recalled jars are marked "EST. 44798" in the USDA inspection label, according to the Agency of Agriculture. The affected products are classic chicken broth and fire-roasted tomato and shiitake beef broth, both with added CBD. None of the four jars has been returned to Collier, she said.
*
Correction, October 18, 2017: An earlier version of this post misstated Collier's description of how she added CBD to the broth and labeled her jars.