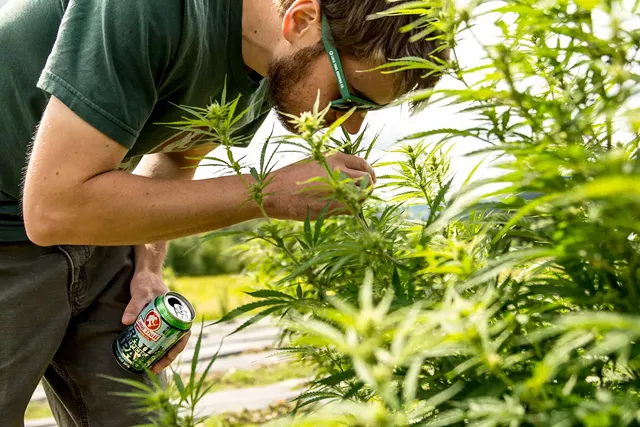 Courtesy of Long Trail Brewing
Ian Harbage at Luce Farm in Starksboro
First there were cannabidiol (CBD) pastries, sold in retail packages at free-thinking retailers such as
Burlington's Green State Gardener
. Then, restaurants began jumping on the bandwagon with CBD
pastries
,
breakfast and lunches
, and special
CBD cocktail nights
. Now, Long Trail Brewing (LT) head brewers Ian Harbage and Sam Clemens are piloting a beer infused with the cannabinoid compound.
Harbage and Clemons took over the LT brewhouse when former head brewer Dave Hartmann decamped to Yonkers Brewing Co. earlier this year. On a conference call earlier this week, the brewers said the project got started when a LT bartender connected the brewers with friends at Stockbridge's
Luce Farm
, which grows organic hemp and produces CBD-infused honeys and oils.
Harbage described the new beer as "hop-forward but not necessarily an IPA." Grounded in light caramel malts and dry-hopped with Citra and Mosaic hops, the brew absorbs additional spicy notes from fresh ginger, while the botanical honey lends additional herb fragrances and rounded body to the golden-amber ale.
Each pint will contain 20 to 30 milligrams of CBD, which is comparable with the dosage in other CBD foods and beverages. Because CBD is extracted from hemp, it won't get you high — unlike the tetrahydrocannabinol (THC) found in hemp's psychoactive sibling, marijuana. But many claim CBD relieves symptoms related to everything from autism and anxiety disorders to some types of cancer. And it's believed to relieve, nausea, pain and aid in bone and other tissue regeneration.
While this first batch is mostly about trying something new and exciting, Harbage said he sees long-term potential for CBD products as use of the compound becomes more widespread. "It's also a way to support local agriculture," Clemons added. "We see this [industry] developing more and more in the future, if we support it."
As a trial run, Long Trail brewed about 10 gallons of the new beer, which has yet to be named. Find it on draft in the brewery's Bridgewater Corners pub and tasting room during a two-day
meet-the-farmer event this Saturday and Sunday, September 2 and 3
.
Correction, September 1, 2017: An earlier version of this story misspelled the last name of Long Trail's Sam Clemens, and misstated the town where Luce Farm is located.