Sally Pollak
Chris and Tammy Corron with Haley
They were high school sweethearts from Winooski who liked to go to Burlington to eat at Beansie's bus by the waterfront. She would order a Michigan; he always got the fries.
"Of course we shared," Chris Corron said. "And we're still together."
Chris and Tammy Corron have been married 33 years. They have three daughters, six grandchildren — and one yellow food bus parked near the waterfront. The Corrons, who live in Williston, purchased Beansie's during the off-season. In the spring, they started serving Michigans, French fries, burgers, creemees and more at their erstwhile teenage haunt.
"We've been coming to the bus a long time," observed Chris, 52. "It's a tradition, it's a landmark. I wouldn't buy just any bus."
Beansie's is the second food establishment owned by the Corrons. For 17 years, they've owned and operated Chris and Tam's Family Snack Shack at the Champlain Valley Fair. When the fair opens on August 25, the couple will split up during the work day and take turns at each place. The Corrons get help from their children and grandchildren, including 8-year-old granddaughter Hailey.
She has a keen eye for customer service, and noted that many people come to Beansie's for the hand-cut French fries. At the fair snack shack, the fries start out frozen.
"There's a big difference in taste," said Tammy, 53.
At Beansie's, only the fries are cooked in the fryolator. At the snack shack, the Corrons load up the deep fryers with mozzarella sticks and chicken fingers as well as fries. The snack shack menu also includes corn dogs, double cheeseburgers, and peanut butter and jelly sandwiches.
This week, it's clean-up time, the Corrons said. That's the first thing they do to get ready to open for the fair. There are beehives to remove, grills to scrub … and then customers to greet — both regulars and newcomers.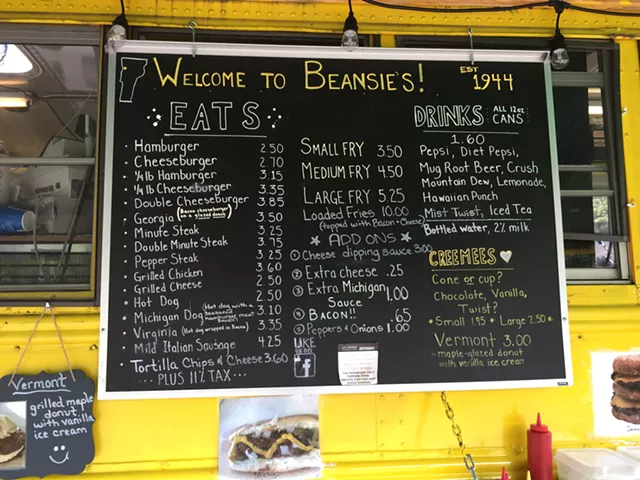 Sally Pollak
Beansie's menu
The Corrons said they like to eat salad at the fair — "something different" — and have a special fondness for taco salad. The family has a tradition of getting corn on the cob from the Essex Rotary Club, they said.
Meanwhile, back at Beansie's, there's a new offering after 73 years in business. It comes from Hailey: Last week she was handing out stuffed animals to the next generation of customers at the yellow bus.
Correction, August 22, 2017: An earlier version of this story misspelled granddaughter Hailey's name.