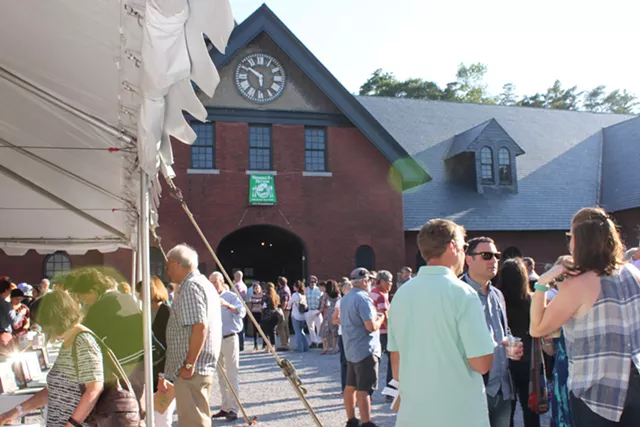 Sophie X. Pollak
Vermont Fresh Network fundraiser at Shelburne Farms
The
Vermont Fresh Network
held its annual gala last Sunday evening at Shelburne Farms. The occasion is billed as a "forum," but it's perhaps better described as a mass feeding.
About 400 people attended the sold-out fundraiser for the VFN — a statewide nonprofit that connects food producers and restaurateurs, and works to strengthen partnership between the groups. The network's membership includes 113 chefs and 140 farmers/food producers.
Sunday night at the Coach Barn, farmer-chef connections were on display in a delicious and creative array of mini-meals, from complex (smoked beef with pickled blueberries and radishes, garlic-chili aioli, basil and mint) to simple (ham and butter on baguette).
To honor the event, we recognize seven contributions:
Root, root, root for the home team
(and your food): At the
Shelburne Farms
table, you had to dig through a mound of
O Bread
breadcrumbs, acting as dirt, to unearth carrots and potatoes from the farm's market garden.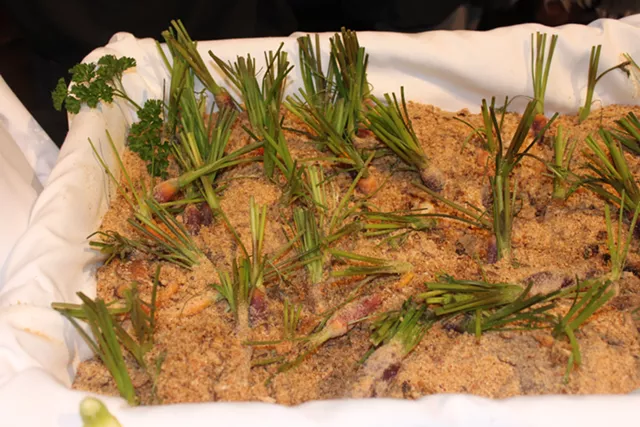 Sophie X. Pollak
Dig for your dinner
Clever serving mechanism/stellar customer service:
The Farmhouse Tap & Grill
grilled burgers — gloriously medium-rare! — in the courtyard on a portable grill that burned charcoal and wood. Cooks passed cheddar burgers, dressed with beet barbecue sauce and Napa cabbage and sweet pepper slaw, through a barn window to diners inside (via the restaurant co-owner and his daughter). At the end of the evening, when the grillman finally had a chance to eat his own food, he kindly gave a leftover cheeseburger on the windowsill to a hungry teen — fixings and all.
Sophie X. Pollak
Farmhouse cheeseburger
Spirit of the night
in words and food: Ian Huizenga, chef-owner of
Bar Antidote
in Vergennes, described how he came to make pork and chanterelle pâté, served with blueberry, peach and black-pepper jam, bread-and-butter pickles, and bread. He worked with
Snug Valley Farm,
a longtime partner, and the new
Fully Belly Farm
in Hinesburg.
"We're all close to neighboring farms," Huizenga said. "You're familiar with the fields. It's the relationships you build with people. You know what they're making, you know the quality."
He wanted to serve something "fun, fresh and local" that was tasty and relatively simple to prepare. Huizenga's plate — "salt, smoke and sweet" — achieved that.
Sophie X. Pollak
Pâté and pickles
Worthy of thirds
: The seafood gazpacho from
Bleu Northeast Seafood
was so outta sight that one attendee, beer aficionado Jeff Baker, sent in a ringer to score his third helping. "Holy shit!" Baker exclaimed. "That's the best thing I've had."
Sophie X. Pollak
Seafood gazpacho
Promising pairing
:
Sodexo/Norwich University
hooked up with
Pete's Greens
to serve a salad of greens and tomatoes with toasted goat cheese. Norwich doesn't serve produce from Pete's, an organic vegetable farm in Craftsbury, but ... "We're happy to try them tonight," a Sodexo server said, adding she was most pleased with the product.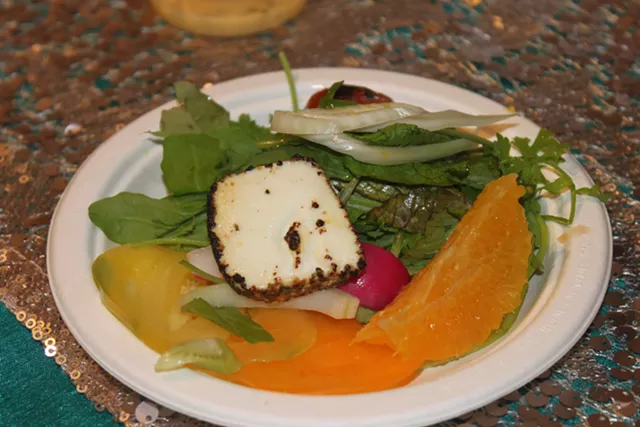 Sophie X. Pollak
Salad from Pete's Greens
Best dessert (tie)
: A couple of items straight-up, no extras, were the perfect way to end the meal. We couldn't choose between these two delights, so we recommend each with highest marks: fresh mint ice cream from
Strafford O
rganic Creamery
, and a shot of Tom Cat from
Caledonia Spirits
.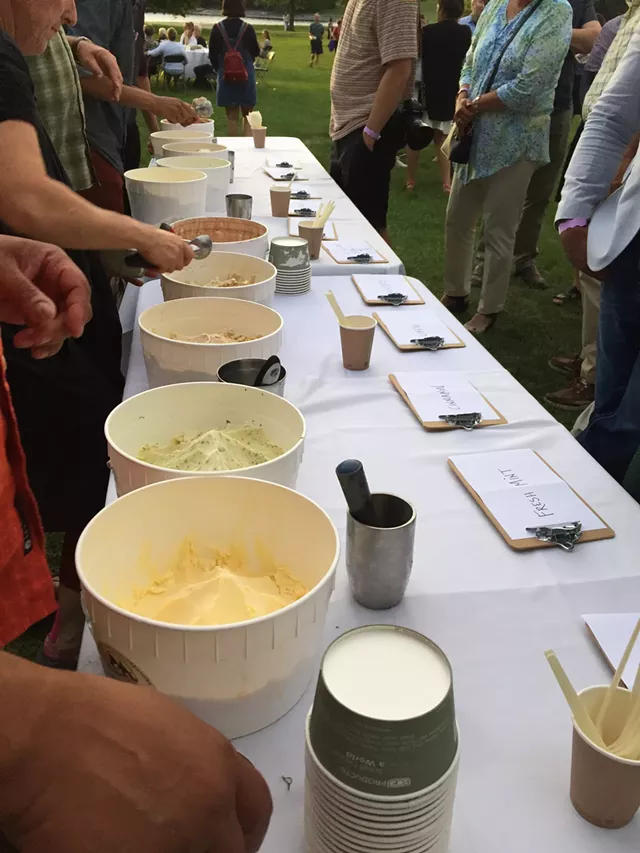 Sally Pollak
Ice cream lineup
Preferred seating
: If you could find a spot on the wall by Lake Champlain without sitting in goose dung, the sky was the limit.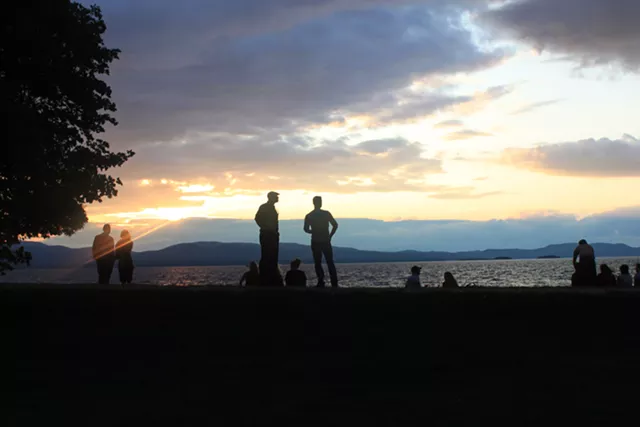 Sophie X. Pollak
Sunset as the VFN dinner winds down