Courtesy of Eden Specialty Ciders
Apple harvest at Eden Specialty Ciders' orchard in Charleston, Vermont
At Eden Specialty Ciders (formerly, Eden Ice Cider), Eleanor and Albert Leger have spent the past several years producing high-end ciders and apple-based aperitifs, many of which command $20 or more for a small bottle. Now, with the debut of Border Buster Cider — which they've produced collaboratively with Verger Heath Orchards of Stanstead, Québec, Sunrise Orchards of Cornwall and Farrell Distributing — they're looking to enter the everyday drinking market.

"This is our first attempt at a less expensive cider," Eleanor Leger told
Seven Days.
She added that the faintly sweet, sparkling drink is still produced as a vintage cider, fermented with juice that's pressed within a few weeks of harvest.
Named for an annual international swim in Lake Memphremagog, Border Buster is made with mostly dessert-style fruit, including Honeycrisp, Liberty, Snowsweet and McIntosh apples. These are sweeter and less complex in flavor than the hard-to-find traditional cider apples Eden uses for its other products. 2016's vintage also includes several
old St. Lawrence valley varieties from Heath Orchard, such as Lawson, Famouse, Joyse, Melba and Lafam.

Leger said importing apples and juice from Québec was fairly easy, requiring just a stop at the border, during which she filled out a form and payed a fee of $10.75.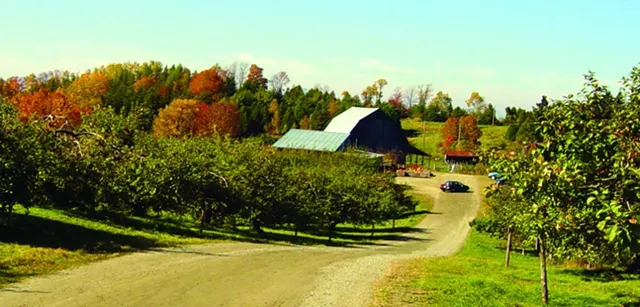 Courtesy of Eden Specialty Ciders
Verger Heath Orchards, Stanstead, Québec
As for tasting notes, Leger describes the new cider as off-dry — it's back-sweetened with a touch of ice cider — and "all about juicy, full-bodied, apple with nice acidity."


This year's Border Buster release — just 120 cases of 500 milliliter bottles (that's just over a pint) — will be available for about $5 per bottle at outlets including Winooski's Beverage Warehouse, Healthy Living Market & Café, Hunger Mountain Co-op, Waterbury Craft Beer Cellar and others.

Eden has also been collaborating with other cidermakers nationwide, including New York's Angry Orchard, California's Tilted Shed Ciderworks and a host of New England cideries on projects that Leger wasn't yet ready to discuss in detail. But the big idea?

"Banding together with other likeminded cidermakers to [produce] fun, interesting things for people to share," she said.

Cheers to that.