Sally Pollak
Slippery Lady cocktails at Radio Bean
If Lee Anderson recommends a drink, it's not a bad idea to pay attention. Anderson has a run a bar since he was 22, when he opened
Radio Bean
on North Winooski Avenue. It could be the coolest bar in Burlington.
Throw in the neighboring businesses Anderson has created since, and it adds up to a trio of spaces that, as he puts it, have "revolutionized" that block of Burlington. (And well beyond, I'd say.)
Together, the Bean,
¡Duino! (Duende
) and
Light Club Lamp Shop
bring to the neighborhood two stages, 37 employees and a menu that represents 11 countries and five states. The triumvirate is accompanied by one poetic road story that is still unfolding.
Sipping Anderson's suggested cocktail — a $10 Slippery Lady (gin, Cointreau, Campari and raspberry lemonade) — I heard the tale of his move from Breezy Point, Minn., to Burlington via Ludlow. The drink's jazzy summer flavor and pink hue gave the story added snap — though it holds its own straight-up. So does the Slippery Lady.
Anderson was a recent high school graduate, watching music videos one night, when he saw "Hunger Strike" by
Temple of the Dog
. Suddenly, he had a "vision" that he should move to Vermont.
He dialed 1-800-VERMONT, the state tourism line, and got swept up by the various options on the automated phone menu. "I stayed up all night learning everything about Vermont," Anderson recalled.
In the morning, he called a friend and asked him if he wanted to drop out of college and move to Vermont.
"OK," his buddy replied. "When?"
"Now," Anderson told him.
Soon, the two were driving east in a 1992 Toyota Celica. Anderson wound up in Ludlow, which was not quite the vision he had in mind. So he made his way to Burlington and enrolled at the
University of Vermont
for a short spell, studying English. When the space below his apartment became available for rent, Anderson dropped out of UVM and opened Radio Bean in the fall of 2000.
"I was 22, " he said. "I was just happy to have anything. This place seemed big at the time." He charged about $30,000 worth of equipment on his credit card.
"My feeling was, if I get into this and I lose $50,000 — basically a college education — I'm going to do it on my terms," Anderson said. Those terms involved "people above profit.
"I really wanted to create a community," he continued. "I was intentional about that, making sure I was contributing to the growth of the community."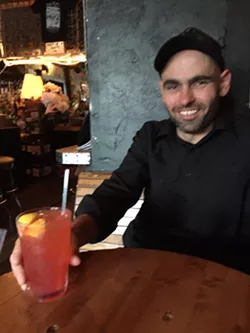 Sally Pollak
Lee Anderson at Radio Bean
In the process, he met his now-wife, the singer
Kat Wright
, when she performed at Radio Bean. And in the summer of 2009, after neighboring
New World Tortilla
moved to Pine Street, he opened ¡Duino! (Duende) next door.
Anderson remembered watching as a "big cowboy" with a water saw — a power tool that sprays water as it cuts — sliced into the brick wall to connect the two spaces.
"It was like the reaper coming to slay the wall," he said. The barroom was deluged with water, as if spouting from the bricks.
"It was raining orange," Anderson said. "It looked like blood. I came in and wept, 'What am I doing? Am I making a big mistake?'''
His question was answered by what happened next. The Radio Bean community began to take the wall apart, brick by brick, opening the way to Anderson's next endeavor. A third, the Light Club Lamp Shop, would follow.
"If you're not into the vibe in one room, chances are you're going to be into it in another," he said. "There's places to go without ever leaving."
Still, when Anderson fills out a form that asks for his occupation, he writes poet.
"In my mind, that's what I still am," he said. "I'm just a poet who started a coffee shop and bar, and proceeded on that path."