File: Suzanne Podhaizer
Scallop and bacon pizza at Folino's
Make way for Folino's.
The popular Shelburne pizzeria is expanding to Burlington. Folino's owner John Koerner leased a 5,000-square-foot space inside the former Corbin & Palmer Funeral Home building on South Union Street, he told
Seven Days
.
It's still very much a work in progress. On Thursday Koerner and two other men were gutting the place, which is now empty. Koerner plans to use the rear portion of the building, which faces the City Market/Onion River Co-op parking lot, as his entrance, which will give him an opportunity for outdoor seating and plenty of parking. He also has an extra 1,800 square feet of space that he wants to make available to a brewery, much like his arrangement with Fiddlehead Brewing at
Folino's Shelburne location.
Sasha Goldstein
John Koerner shows off the inside of the building.
The renovation began in early May, he said, so there's still a long way to go. He downplayed the progress — "I'll believe it when I see it" — while simultaneously expressing optimism: "I think we're on a little bit of a track now." Koerner's got a small crew working the site, so he was loath to speculate about when he'd start churning out wood-fired pizzas. He guessed September or October.
But he's excited about the location and its proximity to City Market, which he said draws 5,000 customers a day.
The Corbin & Palmer building had been unused for some time until Michael Johnson, an attorney with Johnson & Finnigan, bought the place on March 31 for $1.6 million. There's still space available — 3,200 square feet — for a second tenant. Johnson said his phone's been "ringing off the hook" for it, but he wouldn't say who has inquired.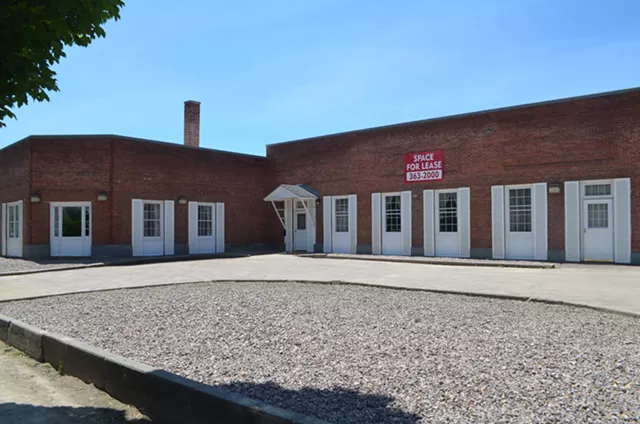 Sasha Goldstein
The building from South Union Street
"That whole side of Burlington is underserved," he said of the location.
He's happy so far with his first tenant.
"Am I excited that a guy I like is paying me rent and is going to kill it there?" Johnson said. "The answer is yes."