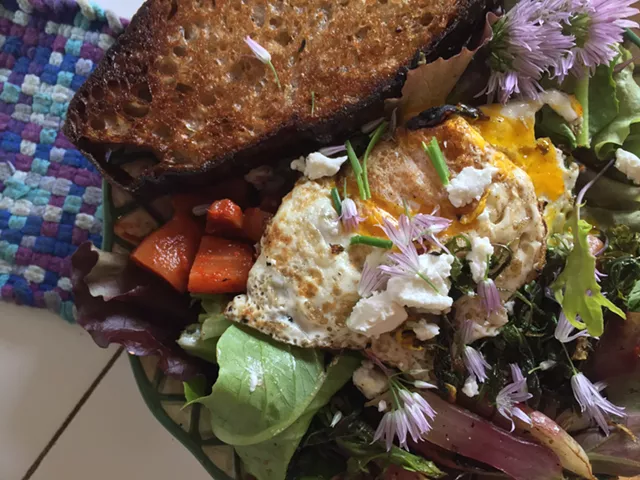 Hannah Palmer Egan
Breakfast salad with egg, radish kimchi, sautéed radishes and greens, and butter-grilled bread
Despite my deep love for all things meat, I eat more like an herbivore when I'm cooking for just myself. One of my morning go-tos is the breakfast salad. Loosely speaking, this calls for the following, any of which you can leave out if it's not your jam:
Garlic and oil, butter or animal fat

Fresh veggies that cook quickly

A bit of sausage, bacon, ham, etc. (optional)

Salad greens

Kimchi or kraut

One or more dairy product: feta, chèvre, mascarpone, blue cheese, plain yogurt

Hot sauce

Bread or tortilla
My personal formula usually starts with a clove of garlic, sautéed in a skillet with butter or an oil — usually olive or coconut, sometimes with a splash of sesame. Now and then, I use a bit of sausage, bacon or ham. When the meat is very fatty, I cook it until some fat renders off, then drain away most of it, and use the grease in the pan to start the garlic. Pork fat is actually very good for you when used in moderation!
When the garlic is just soft, I add a veggie. Right now, that's a few stalks of broccoli rabe from my garden, plus four or five split French breakfast radishes and a handful of
braising greens
from my neighbors at
Stone River Homestead
. Two weeks ago, I was using dandelions and, before that, nettles, both of which I like to blanch in big batches so I can add them to everything all week.
In tomato season, I love to cut a couple thick slices of ripe, juicy ones and quickly sear them on both sides over high heat — just enough so each slice is warmed through the middle and the edges are barely caramelized. Make sure to season whatever you use with salt and pepper or a splash of tamari or liquid aminos. The veggies need to be a little salty.
While the vegetables are cooking — most need 5-7 minutes, max — I arrange a generous bed of mixed greens or arugula in a wide bowl. I add a quarter cup or so of something fermented (right now, mixed-veggie ginger kraut or this
radish kimchi
I made last fall). In the past, I leaned on fresh, fairly mild ferments from
Sunja's Kimchi
, and anything from
Sobremesa
or
Flack Family Farm
.
Usually, I use a thick slice of feta from
Maplebrook Farm
, or a couple tablespoons of crumbled chèvre from
Vermont Creamery
or
Doe's Leap
. But sometimes I go with blue or even grated Parmesan or an alpine cheese such as Gruyère. You could also use cottage cheese or plain or Greek yogurt. (I've been loving a Greek sample the folks at
Butterworks Farm
gave me during a recent farm visit.)
When the veggies are warmed and softened a little, I arrange them on top of the greens and crack an egg — this week from
Crossmolina Farm
— or two into the pan. I cook it so the yolk is soft and place it on top, or sometimes I use a soft-boiled egg. If the day's harvest calls for blanching greens, I just boil the eggs (six minutes) in the leaf-stained blanching water, which turns the shells a fun shade of green. To top it all off, I splash everything with whatever hot sauce tickles my fancy.
Finally, I like to warm up a couple of corn tortillas or lob a little more butter into the hot skillet and grill a piece of bread. (I slap on a little grape or blackberry jam if I'm feeling like something sweet.) Because who doesn't love crispy buttered bread with a salad?
It might sound like a lot of steps, but the whole shebang takes 10 to 15 minutes if you're quick about it — about the same amount of time as a breakfast sandwich. And you can head into your day feeling healthy and sharp, knowing you've already hit all the major food groups in ratios that would impress any nutritionist.