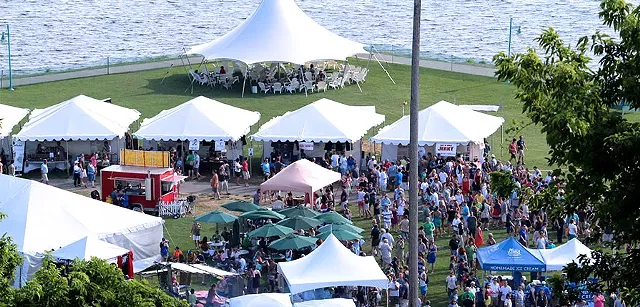 Courtesy
Vermont Brewers Festival on the Burlington Waterfront
The
Vermont Brewers Association
announced on Monday afternoon that it will host a brewers festival at
Killington
Resort
next March, to be called — wait for it — the Vermont Brewers Festival at Killington.
The VBA hosts the annual
Vermont Brewers Festival
at
Waterfront Park
in Burlington in July (this year Friday and Saturday, July 21 and 22). The organization that represents 52 Vermont craft brewers has been considering for some time adding a second festival to its lineup, according to marketing and festival director Amy Cronin.
"We wanted to play into Vermont being so beautiful," Cronin said. "And offer something in another part of the state, and make it special."
The winter festival on March 24 will feature a selection of specialty beers that Vermont brewers make in collaboration with one another, Cronin said.
"The fact that we can do a collaboration event is unique to our association," she added. "We have these relationships with our brewers to make those connections, and to get people to brew something special."
An estimated 30 to 35 brewers are expected to participate in Killington, Cronin noted. The one-day event will have two sessions, with roughly 2,000 tickets available for each. Tickets are $42 and will go on sale July 21.
Meantime, tickets are still available for the first day of the two-day Vermont Brewers Festival at Waterfront Park, Cronin said. That event — which turns 25 this year — has been a fast sellout in past years. In 2014, online sales of 8,400 tickets sold in 11 minutes.
Cronin thinks competition with other beer festivals is the reason for slightly slower sales this year, she said.