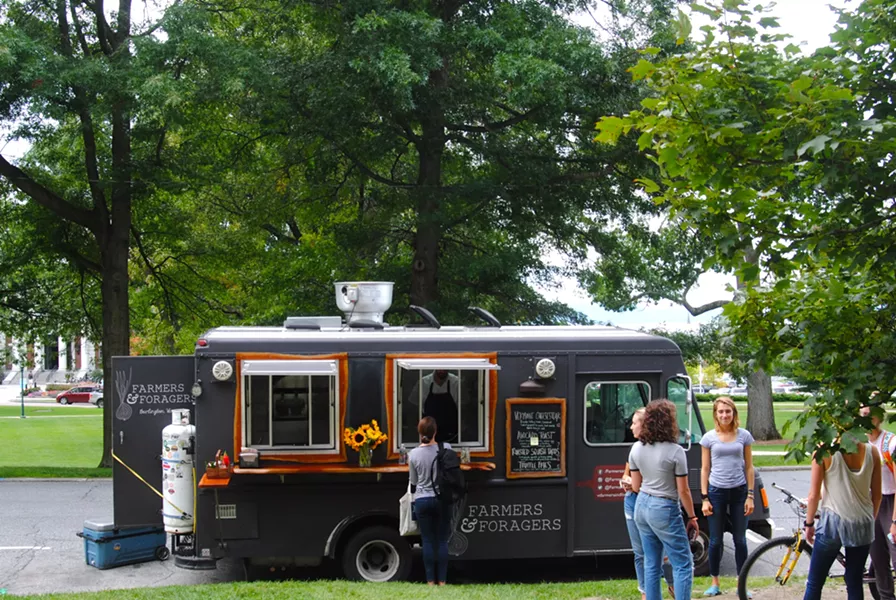 COURTESY Farmers & Foragers
Farmers & Foragers at UVM
HILLTOP TRUCK STOP
Farmers & Foragers has joined the mobile food crew on University Place at the UVM Green, where a fleet of food trucks has served deli fare, Asian food and more for many years. Featuring ingredients sourced from local producers, Farmers & Foragers offers Philly cheesesteaks VT-style, perch po'boys, and roasted squash tacos. The truck will add seasonal fare including ramen and pho when the temperature dips.

Check in here each Tuesday for the latest updates on where to find food trucks, trailers and carts throughout northern and central Vermont. We'll do our best to keep these listings current and accurate, based on info reported to us by the food truckers and their fans. But since the vendors listed here are, by nature, mobile, it's a good idea to confirm (via social media or a good old-timey phone call) that a truck is at its listed location BEFORE you hungrily beat feet in that direction. Please note: we do not list food trucks and carts at farmers markets.
Are you a food truck owner who would like to be listed? Maybe you're on the list already, but your schedule has changed? Drop us a line!
Last updated: August 30, 2017
<!—————MONDAY LUNCH—————>
Monday
Lunch
Church Street Marketplace, Burlington
Battery Park, Burlington
Five Corners, Essex Junction
Williston
Vergennes
Salisbury
Joe's Pond, West Danville
Lyndonville
River's Edge Farmstand, Barton
Monday
Dinner
Momo's Market, Burlington