File: Matthew Thorsen
Griffeon Chuba with a hot pie at Pizzeria Verità
The owners of
Pizzeria Verità
, a popular Italian restaurant on St. Paul Street in Burlington, have been looking to expand their business for some time. They checked out possibilities in Cincinnati, Ohio, and Portland, Maine, among other places, co-owner Leslie McCrorey Wells told
Seven Days
.
Then they looked at a bit closer to home — next door — and made a deal.
Wells and her business partner, John Rao, are buying
Trattoria Delia
and Sotto Enoteca from Tom and Lori Delia. The Delias opened "Tratt" 24 years ago. The Italian restaurant a few steps north of Verità is known for its antipasto platter, housemade pastas and filet mignon, among other specialties. Sotto is the associated wine bar next door that serves mainly small plates, craft cocktails and, of course, wine.
The new owners expect to take over the neighboring establishments in the second week of April, according to Wells.
File: Matthew Thorsen
In the kitchen at Pizzeria Verità
"John and I are very interested in the whole concept of having an Eataly, where you have different options for great authentic Italian food," Wells said (referring to the international Italian "megastores" featuring markets, restaurants and more).
Tom Delia described the purchase as a "good change for everyone."
"We've been here for 24 years," he said. "You go in the same door for 24 years, you have the same drive."
He jokes — sort of — that in 35 years in the restaurant business, he's put in 65 years of work.
"Lori's and my whole idea with this restaurant was to showcase what really is going on in Italy, and to be ambassadors for Italian wine," Delia said. "Now it's time for somebody [else] to be the curators of that."
The couple, who live in Charlotte, intend to take six months off before they think about what they'll do next.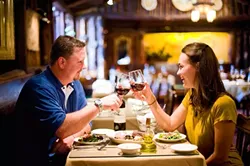 Courtesy of Trattoria Delia
Dining at Trattoria Delia
Delia said a "casual conversation" with Wells and Rao — "Hey, you wanna buy the restaurant?" — turned into the deal.
The Verità restaurateurs plan to keep the cuisine the Delias created at Tratt, which has long been a dining destination in Burlington. They will retain members of the restaurant's staff, including Tratt chef Tim Peters.
"We're not buying this wonderful, authentic restaurant to change it," Wells said. "We're really buying all the work and the effort and the time and love and passion they put into this great institution."
Wells and Rao, along with former business partner David Abdoo (now owner of
Waterworks Food + Drink
), opened Neapolitan-style Pizzeria Verità in 2012. It has about 40 employees, Wells said. The new restaurants will add another 25 or so. Wells and Rao have created a corporation, Dough Rao Me, Inc., for ownership of Trattoria Delia and Sotto Enoteca.
"We're really happy with the way things are going," Wells said. "We have a management staff in there [Pizzeria Verità] that we work very closely with. They are doing a really great job. The staff is enthused and excited about the idea that we have some opportunities at Trattoria Delia."
Delia also described his staff as excited to stay on at Tratt and Sotto.
Rao will spend most of his time at the pizzeria. Wells will be next door, she said, especially during the upcoming transition.
The connection between Trattoria Delia and Pizzeria Verità predates their time as neighbors on St. Paul Street. Delia, Rao and Wells have known each other for 30 years, since they worked together at Perry Restaurant Group.
Later, when Rao was a commercial realtor, he sold the Delias the restaurant space — formerly What's Your Beef — that would become Trattoria Delia.
The food at Pizzeria Verità even reflects a touch of Delia: The Trattoria chef taught Rao how to make mozzarella cheese, and Delia recommended the type of flour — 00 (double zero) — that Verità uses in its pizza dough.
Rao called the ownership change "cosmic."