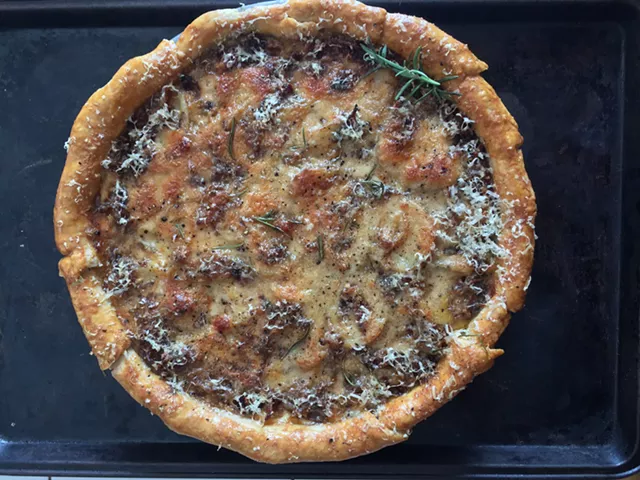 Hannah Palmer Egan
Scalloped potato pie
I like to think of early spring as dairy and potato season. It's a little soon for fresh greens, except from the most zealous farms with over-wintering greenhouses, and by now I'm pretty sick of of winter squash, carrots, rutabagas and the like.
But potatoes, butter and cheese? I never really tire of those. And you can always find them at the farmers market in colorful arrays.
Here's a fun little savory pie that I whipped up last week, using scraps from a bunch of different cheeses. It's similar to a
lovely potato pie I had at Piecemeal Pies
in White River Junction a while back, but a little more rustic.
The recipe is fairly flexible in terms of what goes into it — you just need one soft, spreadable, creamy cheese (chèvre, ricotta, mascarpone), one medium-bodied, meltable cheese (cheddar, blue, mozzarella, Swiss), and one hard, salty cheese (Parmesan, Tarentaise, pecorino Romano) to cover your bases.
My fridge was hiding a half-tub of delicate
ricotta from Mountain Home Farm
and a small container of
mascarpone from Vermont Creamery
, along with a dried-out sliver of Parmesan (among several other cheeses — apparently I'm one of those people with a whole crisper full of curds) and half a block of
Cabot's Alpine-style cheddar,
which has been a staple in my home this winter.
But if your fridge holds cream cheese or chèvre (or both), and perhaps a forgotten bit of pecorino Romano, plus blue or Swiss, that'll work, too. You'll layer these over and around boiled sliced potatoes and make an oozy béchamel to glue it all together, then bake it for an hour and a half or so. And then, at lunch or supper, you can give thanks for muddy March and its mandate to fill up on potatoes and cheese.
Ingredients
All-butter crust, for a single crust pie (Make as described in this wild grape pie recipe, or use your go-to pie crust instead.)

1-1 1/2 pounds smallish potatoes (around 2 inches in diameter)

1-2 slices bacon, pancetta, guanciale or other fatty cured pork, diced

1 large onion, sliced

1 clove garlic, sliced

1 thin pat of butter

4-6 ounces soft, creamy cheese, such as cream cheese, mascarpone or chèvre

8-12 ounces ricotta cheese

1 cup Parmesan, pecorino Romano, Tarentaise or other hard, salty cheese, finely grated

1 1/2 cups cheesy béchamel**

Fresh sage (minced) and/or rosemary, leaves removed from stems

1/2 cup grated cheddar, mozzarella, Swiss, blue or other meltable cheese

1 egg, whisked
**For the cheesy béchamel:
2 tablespoons butter

2 tablespoons flour

1 cup whole milk

3-4 ounces cheddar, mozzarella, Swiss, blue or other meltable cheese, grated
Preparation
Make the pie crust a day ahead if possible — it's best for it to rest in the fridge overnight before you roll it out.

When you're ready to bake, roll out the crust, place it in a greased tart pan, and place in fridge to cool.

Scrub and slice the potatoes and boil in water with a little salt until fork-tender, around 20 minutes. Rinse and allow to cool.

Preheat oven to 325 degrees Fahrenheit and place a rack in the middle of the oven.

Caramelize the onions: In a large skillet over medium heat, sweat the pork until it begins to crisp around the edges. Add onion and garlic, and a small pat of butter to the skillet. Stir well, cover and reduce heat to low. Cook, stirring every 3-5 minutes, until onions are golden and stringy. Remove from heat and reserve.
Make the béchamel: Place butter in a skillet over medium heat. Add flour and whisk until it bubbles and makes fish-eyes, and the butter browns. Add milk slowly, whisking constantly as you do. Reduce heat to medium-low and warm, stirring often (almost constantly), until the mixture is thick enough to coat a spoon. Whisk in the cheese, stir until sauce thickens to an alfredo consistency. Grind fresh pepper over top and add just a little salt to taste. The final sauce should be less salty than you'd normally prefer — the salt in the pie's cheeses will balance it out. Cut heat and cover, but leave it on the stove/near oven so it stays warm.
Remove crust from the fridge and spread a quarter-inch layer of soft cheese on its bottom and sides.
Add a layer of potatoes, overlapping each slice slightly to create a scalloped effect.

Spread a thin layer of ricotta (or more soft cheese, if not using ricotta) over the potatoes and dust with grated Parmesan, or whatever hard cheese you're using. Scatter one third of the onions over the Parmesan, then some of the herbs, and cover all with a very thin layer of cheesy sauce.

Add another layer of potatoes, then more ricotta, Parmesan, onions, herbs and cheese sauce — repeat this process until you reach the rim of the tart crust. Use the cheeses and sauce sparingly, or else your pie will be a big mess of cheesy goo and you might not have room for all the potatoes, which are the most important part.

When you get to the top layer, take extra care to arrange the potatoes in a nice pattern. Top with béchamel and spread the remaining cheeses and caramelized onions on top, finishing with a sprinkle of Parmesan, more herbs and a little cracked pepper.

Brush the exposed crust with whisked-egg wash and bake on a cookie sheet for an hour to an hour and a half, until the top is golden and bubbling.

Allow to set for half an hour before serving.