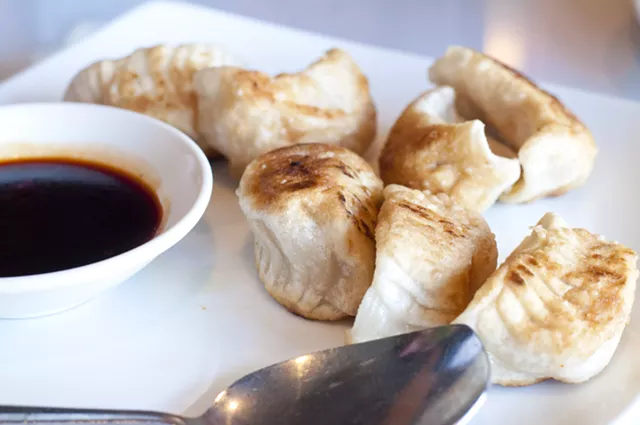 Hannah Palmer Egan
Vegetable potstickers at Silver Palace
Silver Palace, South Burlington: At a Glance
Owners' names:
Ken "Gong" Wong, Ting Ng, Ed Lee
Owners' native city:
New York/New Jersey; parents from Hong Kong
Prices:
Soup, $4-$6; appetizers, $2.50-$9.95; entrées, $11.95-$19.95 (dinner); fried rice: $11.95 (dinner)
Lunch specials:
Entrées plus white or fried rice, $8.95-$13.95
Drinks:
Tiki cocktails, Vermont craft beers, Chinese imported beers; wine, sake, plum wines, jasmine or green tea, sodas
Quirky dishes:
Crispy Grand Marnier pork; Coconut shrimp; Gwin Jin; Seafood basket; Homestyle whole fish
Fortune cookie:
Physical activity will dramatically improve your outlook today.
Silver Palace co-owners Ed Lee, Ken "Gong" Wong and Ting Ng grew up the children of Hong Kong immigrants in and around New York City. In 1986, the trio (and other partners who've since moved on) opened Silver Palace in South Burlington, and the restaurant tells a very different culinary tale than most of Vermont's Asian restaurants. The menu doesn't focus on standard Chinese-American fare like you'll find everywhere else. And, in an accommodating nod to modern dining, almost any dish can be made gluten-free.
It's the kind of old-school place where you'll find exotic, electric-colored cocktails and napkins folded into cranes and tucked into the water glasses, which have stems. Much of the steady lunch-hour crowd has crested the bell curve toward retirement.
With executive chef Ng at the helm, the kitchen takes a modern, melting-pot approach to Asian cookery. The cooks blend their own interests and aspirations with influences gleaned from their city youths, and plates from restaurants and catering services they worked for along the way. The result is a fun, fusion-y mix that pulls dishes and techniques from China, Korea, Thailand, Malaysia and beyond.
Hannah Palmer Egan
Kimchi soup, Silver Palace
On a sunny March afternoon, a bowl of kimchi soup fell somewhere between a traditional Korean kimchi jigae and what one might expect of Chinese-American hot-and-sour soup. The bowl was filled with pickle-y, full leaves of Napa cabbage and bits of seaweed and tofu, with a velvety, slightly sweet broth. The vegetable potstickers were browned to a roasty, toasty crisp and, if a little doughy for my taste, were enlivened by the smooth and sweet chile-soy sauce that came with them.
Hannah Palmer Egan
Coconut shrimp at Silver Palace
When it came to ordering entrées, a funny thing happened. I'm not generally a big consumer of shrimp, and Asian entrées bearing the word "coconut" usually turn me off. But something about the " panko-crusted shrimp with creamy coconut glaze" and mixed vegetables called to me.
Ting's five crunchy, jumbo curls came on a bed of steamed peppers, broccoli and summer squash, all awash in liqueur-tinged coconut sauce that was at once creamy, salty and just a little tart.
Silver Palace doesn't propose to offer massive portions at minuscule prices — the restaurant's owners opt for quality over quantity, and source a lot of produce (particularly in summer and fall) from local farms. "It's always assumed that Oriental [food] has to be a cheap price," Wong says, "but we want to emphasize that we use great-quality [ingredients], so it can't be cheap."
Hannah Palmer Egan
Chef's noodle bowl, Silver Palace
So, a bowl of chef's noodle soup — a relatively recent menu addition that Wong says is a new customer favorite — was riddled with tender strips of beef and chicken, plump shrimp and lots of toasted garlic and veggies. The noodles were nice and firm, the broth delicate.
Like many menu items, that dish owes its provenance to a mix of the cooks' personal heritage and America's dining culture at large, according to Wong: "Those noodles are something we eat a lot of in Hong Kong ," he says, "and it's just a popular thing right now."

Duck Sauce is an occasional Bite Club series exploring Vermont's unassuming, inexpensive Chinese restaurants — and unusual fusion outliers. Love the chow mein or Hunan beef at your local wok? Please, tell us all about it: food@sevendaysvt.com.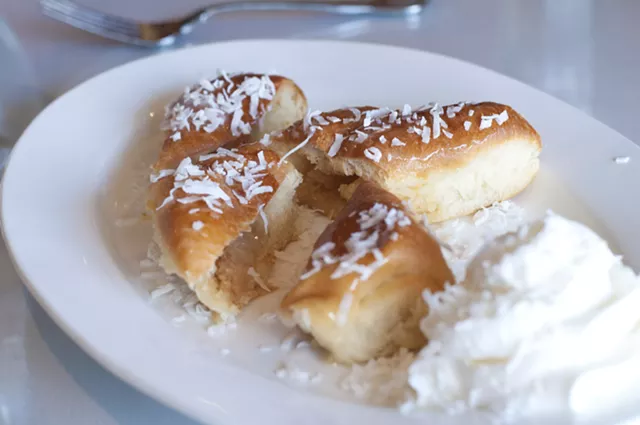 Hannah Palmer Egan
Coconut sweet rolls, Silver Palace