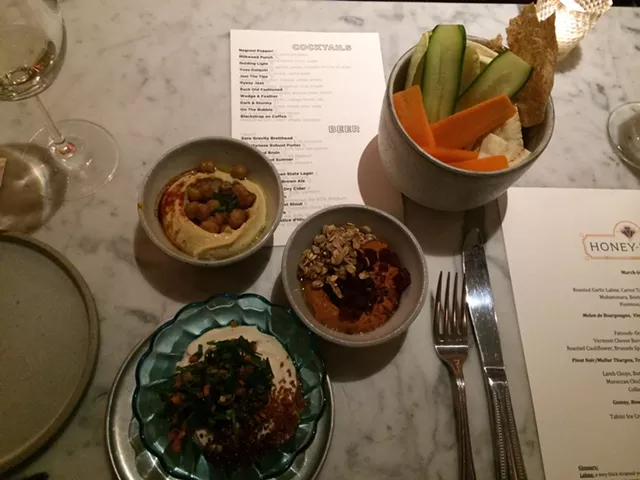 Julia Clancy
Eastern Mediterranean bites at Honey Road's March 6 pop-up
On Monday, March 6, Burlington's
Monarch & the Milkweed
transformed from a boutique "fine diner" to a softly lit watering hole complete with candlelight gleaming on blush-colored wine glasses. The scene was lush enough for a night out, yet aptly cozy for Monday evening.
Locals chattered and laughed, elbow-to-elbow at the bar top or tucked into modest corner tables; instrumental guitar and lilting vocals kept tune in the background. Monarch's tiny dining room was amiably packed with folks relaxing into the second installment of a multi-part pop-up series from Burlington's forthcoming
Honey Road
restaurant — an Eastern Mediterranean spot
to be helmed by co-owners Cara Chigazola-Tobin and Allison Gibson
.
"You don't have to make any decisions tonight," said the bartender to a trio of friends perched on bar seats. "Here is your menu for the evening — we'll bring out each course as it comes. If you have any questions, please ask away."
It was a nice intro, and not having to make choices felt luxurious. The night was curated, we were taken care of. Though, ultimately, I did need to determine one thing: Would I like the wine pairing for each course, for $25 extra?
The three wines on the tasting menu were available à la carte, as well, and Monarch's small, sterling list of wine, beer and housemade cocktails was also handy. My friend and I went with the latter option: "Choose your own adventure." I started with a cool glass of Grüner Veltliner, then savored a rosy Bow & Arrow gamay from Willamette Valley, Ore. — a wine off the tasting menu that gracefully accompanied a dish of spoon-tender braised lamb with butternut and walnuts.
My friend went the cocktail route, beginning with a brooding bourbon drink with amaro, orange flower, salt and a sweet-bitter aperitif called Bonal Gentiane Quina. Later, longing for a good old-fashioned, she ordered Monarch's take on the classic: demerara sugar, allspice dram, bitters, orange peel and a fermented rice and sugarcane spirit called Batavia Arrack, a booze like rum's odd and strangely lovable cousin.
The pace and expert execution of the evening never faltered, from Gibson's front-of-the-house care to Chigazola-Tobin's menu, each course like a study in perfect contrasts. The dishes embodied subtlety and restraint while packing an enormous, satisfying wallop of flavor and texture. The four-course menu had about 10 well-portioned dishes, each balancing novelty and comfort.
Soft, housemade pita was paired with a striking, bright-orange muhammara (a hot and sweet pepper spread with walnuts, originating from Aleppo, Syria). Roasted garlic labneh came under fried quinoa and a tangle of fresh herbs. There was Fattoush, a crunchy chopped salad with strips of spiced fried pita, sumac and fat orange slices; börek, a dish of warm local cheese stuffed in phyllo pastry with hazelnuts and tomato brown butter; and housemade ice cream sandwiches — dark chocolate wafers cookies and tahini ice cream that bridged sweet and savory.
Honey Road's pop-up series continues throughout March with more local collaborations, including Waterbury's
Cork Wine Bar and Market
with
La Garagista
winery on March 20, and Burlington's
ArtsRiot
on March 27. The menu changes for each event. Word to the wise: Come hungry.
For pop-up reservations and Honey Road updates, visit the Honey Road website at honeyroadrestaurant.com.