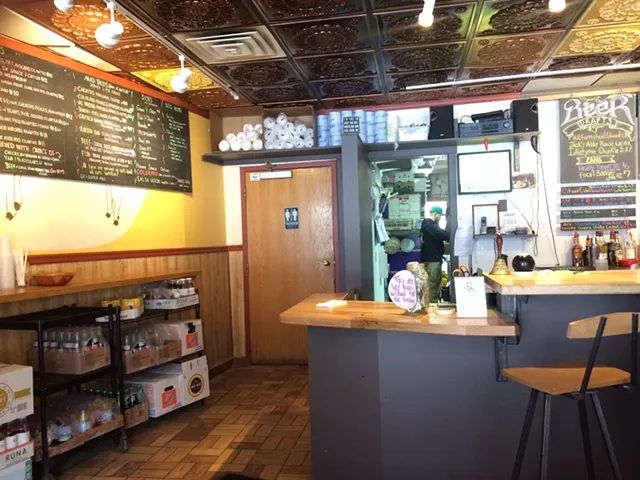 Suzanne Podhaizer
The redesign of the Montpelier Mad Taco
In December,
we learned
that the team behind the
Mad Taco
would be renovating the Montpelier location. Previously a Subway, the spot had retained a fast-food feel in its transition to tacos. Owners Joey Nagy and Wes Hamilton, also the team behind
Cast Iron Catering
, aimed to beautify the space and make it more inviting for lengthy hangouts, rather than quick drop-ins.
Last week, we stopped by to check out the updated décor and grab a bite to eat. The most visible change is that the counter — which used to protrude into the dining room, leaving space for just a few small tables — has been removed. It's been replaced by a pair of simple and elegant wooden tables featuring rich, warm wood and iron fixtures, plus a matching counter and bar stools.
Suzanne Podhaizer
Tables and tiles at the Montpelier Mad Taco
On one visit, a pair of farmers seated at my table were comparing notes on beef breeds and the various benefits and drawbacks of local butchers. On another, I encountered Buzz Ferver, a farmer, teacher and designer/builder who had helped with the Taco's renovation. Both times, the conversation at the communal table was as good as the food.
Although the décor has been upgraded, the menu is — for now — mostly unchanged: There are burritos, tortas, quesadillas, tostadas and more, with a variety of meaty and vegetarian fillings. Changes are coming, though, as the company completes a commissary kitchen in Waitsfield and Nagy begins growing more products for the Taco and Cast Iron Catering.
This time, although the shrimp taco special sounded tempting, I opted for my usual: a pair of enchiladas filled with slow-cooked pork and slathered with tomatillo sauce, with a side of refried beans and seasoned rice ($10). On a chilly day, the hearty meal always hits the spot — and for the price and quality of the food, it's a great deal.
Suzanne Podhaizer
Pastor enchiladas at the Montpelier Mad Taco
The updated space also brings a change that is sure to be warmly embraced by residents, legislators and out-of-towners alike: tequila. The spot now has a full liquor license, and although it's starting with a small selection of drinks, margaritas are on the menu.
Arriba!