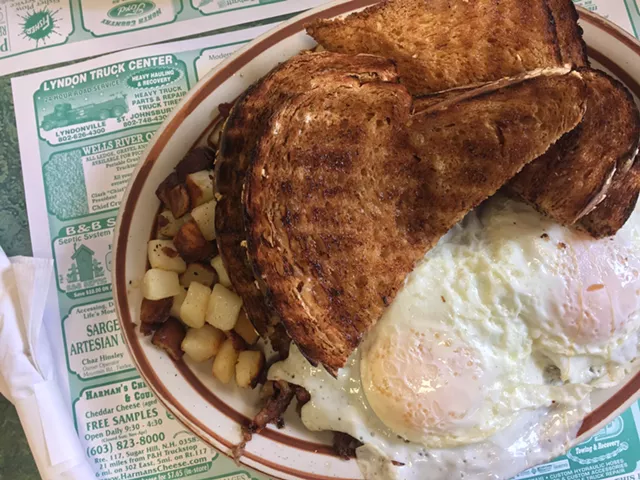 Hannah Palmer Egan
P&H Truck Stop: eggs, hash, toast
Vermonters who grew up out of state might recall family breakfasts at chrome-plated diners, where pages-long laminated menus offered eggs, French dip sandwiches, gyros and ice cream sundaes, accompanied by full-color photos of each dish.
Kids from here, however, are more likely to remember greasy breakfasts courtesy of shingled roadside shacks, summer snackbars and truck stops, where aging waitresses would offer O.J. in brown plastic tumblers and jiggly eggs mixed with cheddar cheese, served with home-baked bread.
On the eastern side of the state, P&H Truck Stop, just off of Exit 17 on Interstate 91 in Wells River, is a breakfast institution. Bakers prepare fresh breads and dozens of pies daily, made with old-fashioned shortening crusts and filled with everything from blueberries or apples to pecans, maple or coconut custard. The peanut butter cream is a local favorite. As teenagers, my friends and I would stop by for a late-night slice of pie or plate of French fries — the dining room was open 24 hours then.
Now, I mostly go for breakfast.
A legendary buffet is available Sundays, 8 a.m. to noon. Cooks hover over the hot bar, restocking eggs and biscuits, flapjacks and French toast, corned-beef hash or chipped beef and gravy, plus potatoes, sausage (links and patties), bacon, ham and anything else a hungry heart might imagine. At end of the bar, a pan of sausage gravy awaits, begging you to ladle it over everything, while a cold bar nearby offers fruit salad, cottage cheese and other somewhat healthier options.
Hannah Palmer Egan
P&H Truck Stop: Western omelet, cinnamon-raisin toast
With or without the fruit salad, it's all epic and not that good for you — definitely a recipe for a lazy afternoon on the couch. But the regular breakfast is available from 6 a.m. to 10 p.m. daily and is a
somewhat
lighter affair.
Last Friday, my two-egg breakfast ($3.79) brought perfectly over-easy
oeufs
with homefries and thick slices of buttered oatmeal toast, plus a heap of corned beef hash ($3.99) that was so soft and savory and comforting, I couldn't stop eating it.
In my husband's Western omelet ($6.99), thin, crepe-y eggs concealed ground ham with peppers, onions and pepper jack cheese. And his cinnamon-raisin toast (a standard option, along with wheat, white, oatmeal and rye) was swirled with so much gooey cinnamon sugar that the bread easily bested most cinnamon buns I've eaten in recent history. The coffee was strong and fresh, too.
Which is all to say: If you're in the area and thinking about breakfast, you needn't wait for Sunday.