Julia Clancy
Handmade silken tofu, one of the courses in a 13-part tea tasting dinner
I walked into
Stone Leaf Teahouse
on Sunday, January 22, at 5 p.m., when the Marble Works hangout is usually shuttered for the weekend. That evening, the small space was lit up, crowded with a couple dozen people sipping house-roasted Hojicha tea and nibbling sliced mandarins dusted with ruby-hued togarashi.
We were all here for the 13-part tasting menu from Burlington-based chef Richard Witting of
Isole Dinner Club
. The dinner — itself a type of pilgrimage, we would soon find out — featured tastings of specialty teas courtesy of two local tea savants: John Wetzel of Stone Leaf and Ben Youngbaer of
Setting Sun Tea Hut
.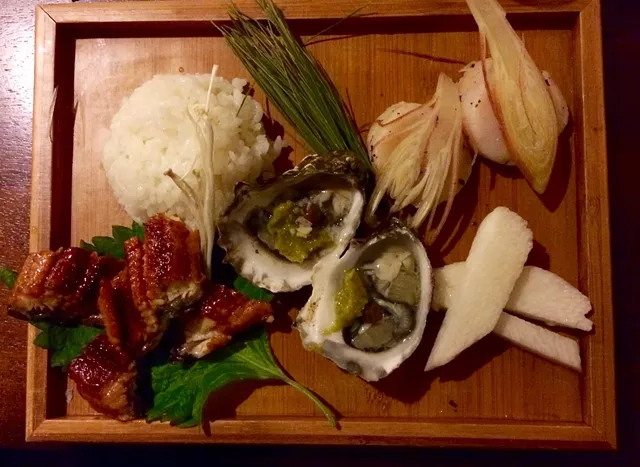 The each step of the tasting menu was meant to mirror 13 checkpoints along the historic Tokaido Road. Captured in a series of ukiyo-e woodblock prints by the 18th-century Japanese artist Utagawa Hiroshige, the Tokaido Road linked Edo — formerly Tokyo, the military seat of power in the Tokugawa period — to Kyoto, the country's imperial capital.
This historic print series, titled
The
Fifty-three Stations of the Tokaido
, is the driving theme of Witting's seasonal, four-part pop-up
.
The chef browsed Hiroshige's images for drawn depictions of food and food production during the long pilgrimage, taking care to note the underlying story occurring within each frame. Sunday's dinner, the second installment, took diners from Kanabara to Mitsuki station by way of the Tenryu River, with Mount Fuji looming in the background.
"These 13 stations depicted in the prints were all in the Shizuoka Prefecture of 18th-century Japan, so I searched regional specialties," said Witting. "Of course, Japanese art and cooking are both huge on making sure the seasons are represented, so in this case [I intended] to start with winter and transition the meal to spring."
The $59 price tag was more than reasonable when considering the cost of high-quality imported and local ingredients, the teas, the number of courses, the historical research required to execute the meal and the time taken to make everything from scratch. Any ingredients that weren't available in the Tokugawa period, Witting said, were nixed.
In total, the dinner lasted about five hours. For curious eaters with a yen for new experiences and a dose of culinary history, the meal was as enlightening and soul-satisfying as it was delectable.
Throughout the evening, we tasted some of the most interesting and nuanced teas I've had anywhere. Wetzel and Youngbaer prepared each tea course intently but delicately, like an archaeologist brushing dirt off long-buried bones, or a chef gently slow-scrambling eggs for a loved one.
The first stop on Sunday night offered oranges and toasty cups of Hojicha. After that, we settled into our seats to begin the culinary journey. The meal continued with okashi — Japanese snacks — for passing around the table. These included agemochi, crispy fried rice cubes; niboshi, dried shrimp and baby sardines; and tiny longan fruits, which are similar to lychee nuts but with a hearty sweetness more akin to coconut meat.
The meal trekked onward, aided by seven or eight fresh and dried teas, including verdant Matcha, high-mountain Sencha and refreshing herbal cherry leaf.
Other meal highlights were a kaiseki-style course with yuzu-kosho-laced Kumamoto oysters from
Wood Mountain Fish
and slabs of yamaimo, a sticky Japanese mountain yam; ozoni, a New Year's soup with dashi, scallions, tatsoi, handmade mochi and black udon noodles made with grano arso, a finely ground, burnt-wheat flour; handmade silken tofu as delicate as fresh curds, garnished with a ball of strained whey and a thumbnail of wasabi paste;
Agricola Farm
pork belly marinated in ginseng cola; and candied burdock root swaddled in a bundle of fresh mochi and sweet miso-adzuki bean paste.
Inspired, tired and not-too-stuffed by 10 p.m., my date and I wandered home to our last station of the night — bed — for a deep and satisfying sleep.
Witting's next dinner will be on April 30. Details will be on Isole Dinner Club's Facebook page.