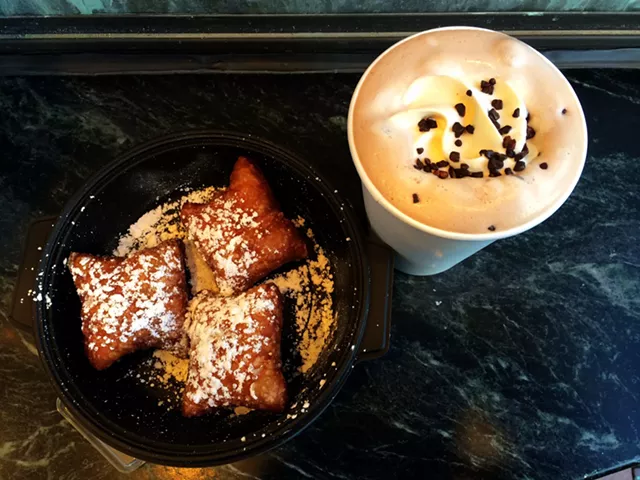 Julia Clancy
Beignets and hot chocolate at Leunig's Petit Bijou
Leunig's Petit Bijou
opened New Year's weekend in the
petit
kiosk on the corner of Church and College streets. Formerly home to Bluebird Coffee Stop, the spot now belongs to nearby
Leunig's Bistro & Café
, helmed by co-owners Bob Conlon and executive chef Donnell Collins.
Francophiles, take note: The kiosk menu covers a lot of French territory. There's poutine (French Canadian), made the Leunig's way with duck confit, duck gravy and
Maplebrook Farm
cheese curds; tender beignets, fried to order and sprinkled with powdered sugar (New Orleans' French culinary history); Belgian hot chocolate; and crispy frites flanked by housemade aioli (a nod to the French side of Belgium).
For France-style French, there are baguette sandwiches layered with cured French Bayonne ham and slivers of local cultured butter; foie gras pâté with cherry compote and a tumble of arugula; olive-oil-poached tuna with olives, hard-cooked eggs and haricot verts.
Leunig's Petit Bijou pulls its culinary influence from a spread of French culture, both local and abroad. But the root of its "Frenchness" lies in the integrity of the food; a small space requires relative simplicity and expert execution without the slightest sacrifice of quality or flavor. Time will tell how Leunig's Petit Bijou fares, but so far, so good.
On a recent Wednesday, the kiosk served a line of customers. Some ordered coffees and espresso con panna. Others perused a display window filled with homemade treats: apple tarts, cookies, French macaron, pastel-hued pâte de fruit. Two customers purchased salads, buttered rolls and black bean soup to go.
Leunig's cook Mark Benjamin, the kiosk's sole cook and cashier, tossed a housemade dog biscuit over the front counter for a visiting buddy's pup. He's enjoying his time socializing with customers beyond the kitchen, he said.
"At the kiosk, the back of the house comes to work the front of the house," Benjamin explained. "Even chef [Collins] is out here at times." Behind the walk-up window, he carefully set three plush squares of dough into a standing fryer.
"[Collins] is one of the most hands-on chefs I've ever met," Benjamin continued. "I've seen her work the line, work the kiosk, wash dishes. I respect that a lot."
As he talked, the hot-sugar smell of fried beignets ebbed from the kiosk window. My friend and I ordered a batch, plus a Belgian hot chocolate with housemade whipped cream and grated dark chocolate. The pillow-shaped pastries crackled at the edges when we sank our teeth into them. The core was just-cooked, still pleasantly molten. Warm air shot from our mouths like steam on this freezing day in early January.
But eating al fresco any time of year seems like the height of fine dining if the fare is right and you've dressed well — whether standing at a kiosk counter or sitting at a candle-lit table for two.
Leunig's Petit Bijou is open 8 a.m. to 6 p.m., Monday through Thursday; 8 a.m. to 11 p.m on Friday and Saturday.