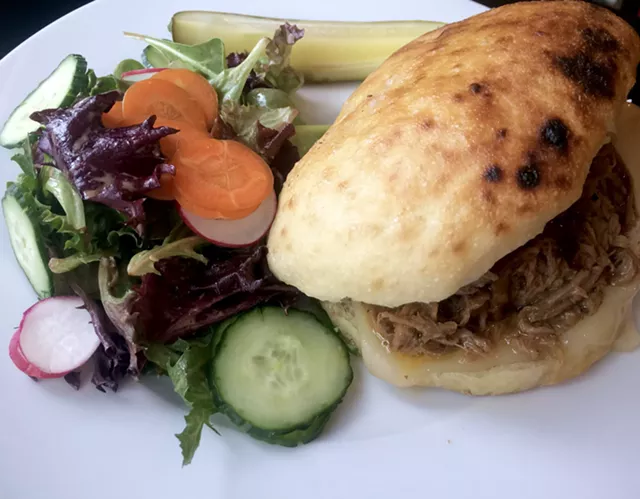 Suzanne Podhaizer
Pulled pork sandwich at One Radish
On December 1, Jessica and Ryan Bunce, the owners of Burlington's
Barrio Bakery
, launched their second business. The breakfast and lunch spot,
One Radish
, is located in Richmond, in the building that used to house Parkside Kitchen, and, before that, On the Rise Bakery. There, the Bunces serve typical, comforting fare made simply with great ingredients.
On a Thursday at lunchtime, the place was filled with folks hanging out in groups drinking coffee and catching up, but the space didn't feel crowded. Hanging lamps shed a warm light, and mismatched chairs, plus a homestyle dining room table, enhanced the comforting coziness of the room.
Usually, I can quickly scan a menu and pick out the items that most entice me. Here, while all of the dishes sounded pleasant, nothing jumped out. It took many minutes of perusing and negotiating before my friend and I were ready to head up to the counter and place our order.
A special pulled-pork sandwich ($11) on homemade focaccia arrived first. Partnered with a side salad and a pickle, the sandwich hit the spot. The meat was tender and saucy, and the bread had just the right amount of bite and give between the teeth.
The tomato soup and grilled cheese combo ($8) was also a solid choice. The soup was robust and thick. The sandwich, which oozed with cheddar and goat cheese, was a salty, fatty foil to the acidity of the tomatoes.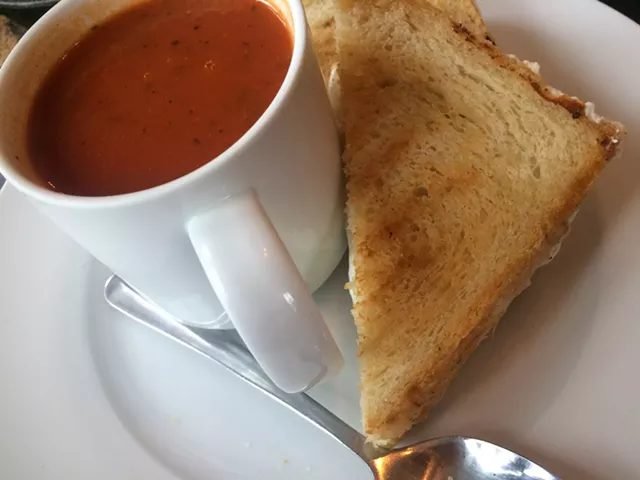 Suzanne Podhaizer
Tomato soup and toasted cheese sandwich at One Radish
Both breakfast and lunch are served all day, so, despite the afternoon hour, the house-cured salmon sandwich ($9.75) was available. Prepared classically with capers, cream cheese, dill and red onion on a sesame bagel — the kind with extra toasty spots from being baked in the wood oven — the sandwich was satisfying.
By the time we'd finished, nearly all of the other customers had cleared out. One diner remained, sipping tomato soup. Cuban music was playing over the speakers, so my friend and I got up and, wearing muck boots and way too full to spin properly, we danced salsa in between the tables. Then, we chatted with our fellow customer and joked with the staff. It felt like the kind of place where that would be welcome, not frowned upon. And that, as much as the quality of the food, will draw me back.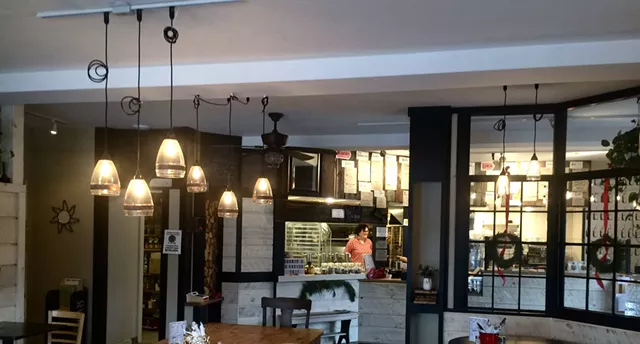 Suzanne Podhaizer
One Radish after the lunch rush