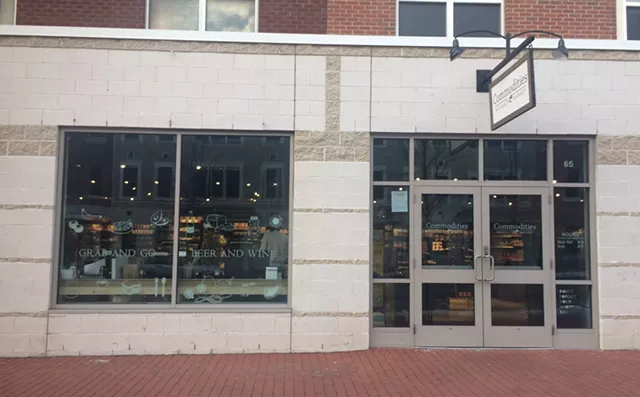 Suzanne Podhaizer
The Commodities Natural Market storefront
On Sunday, December 18, the long-awaited Winooski branch of
Commodities Natural Market
opened in Keen's Crossing. The 3,300-square-foot store is the third in the CNM family. The original store opened in New York's East Village in 1993. A Stowe location followed in 2015. Owner Michael Hughes was drawn to the 'Noosk because of its diversity, and its residents' need for a place to purchase healthy, affordable food.
Bright and airy, the store offers basic staples — mostly in local, organic and all-natural variations — as well as specialty items such as artisan sandwich meats from
The Piggery
in New York, chocolate-flavored hummus, and Talenti ice cream and sorbet. Kombucha is on tap, as is
Brio Coffeeworks
cold brew.
Cost-wise, here's a sampling: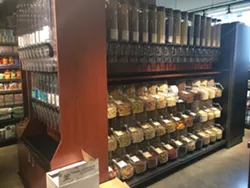 Suzanne Podhaizer
The bulk section at Commodities Natural Market
Field Day beans, can: $1.69

Sweet Rowan or Kimball Brook milk, half-gallon: $4.99

Annie's Mac 'n' Cheese, family-size box: $4.99

Conventional rolled oats, pound: $0.99

Maple Meadow eggs, dozen: $4.99

Cabot unsalted butter, pound: $4.99

Misty Knoll whole chicken, pound: $4.79

Cabot cheddar, 8-ounce bar: $3.99

O Bread baguette: $3.99

Yellow onions, pound: $1.49

Organic bananas, pound: $0.99

Shoppers can also find an expanding selection of grab-and-go items in the refrigerated cases.
Suzanne Podhaizer
Products at Commodities Natural Market