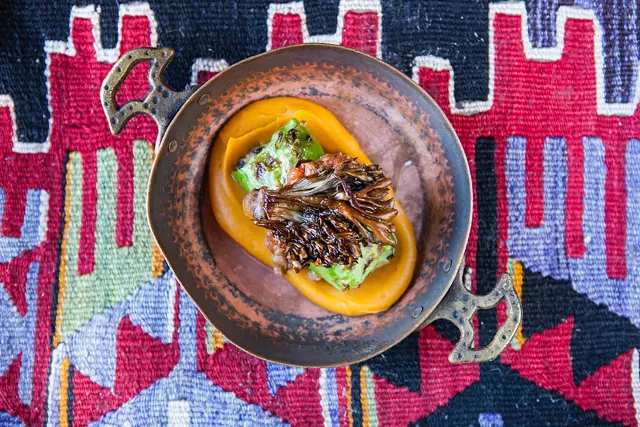 Courtesy of Aliza Eliazarov
Lamb and cabbage sarma with sweet potato purée and crispy hen-of-the-woods mushrooms
Honey flows freely from the heart of Eastern Mediterranean cuisine. It's revered as much for its nuanced sweetness as it is for cultural indications such as happiness and health, vitality and divinity. It's fitting, then, that
Honey Road
— one of Vermont's first major restaurant openings in 2017 — is setting up in a small state with some 2,000 beekeepers and 11,000 hives.
The restaurant aims to open in downtown Burlington by late winter or early spring (the exact location will be revealed once permits are secured). The story of Honey Road starts with the powerful partnership of two restaurant stalwarts: chef Cara Chigazola-Tobin, former chef de cuisine of Boston's James Beard Award-winning restaurant
Oleana
, and Allison Gibson, the operations director and drink expert behind Vermont's
Hen of the Wood
and
Doc Ponds
, and former dining room manager at
Shelburne Farms
Inn.
"I've been looking to move to Vermont for a long time," says Chigazola-Tobin. The chef, a California native, spent her teens in Hanover, N.H., near the Vermont border. When she met her husband, a Norwich local, Chigazola-Tobin says, "Vermont was kind of inevitable; it became a countdown to 'When?'"
The seasoned chef moved to Vergennes last year, where she met Gibson through a mutual friend. "We had a speed-dating situation," Chigazola-Tobin continues. "We met randomly and talked philosophy, food culture, hospitality … everything clicked. The partnership formed so organically." Co-ownership was soon forged, with Gibson heading front of house and Chigazola-Tobin in charge of the back.
Open every day for dinner and bar snacks, Honey Road will feature a mezze-focused, family-style menu rooted in Eastern Mediterranean fare — Turkey, Lebanon, Egypt, Syria — that dips into influences from Morocco, Greece and southern Italy. Though the style is Mediterranean, the food is local: lamb from
Tamarak Vermont Sheep Farm
, birds from
Cavendish Game Birds,
and other local partnerships from grains and dairy to vegetables and herbs. ("They're growing saffron in Vermont!" Chigazola-Tobin exclaims.)
Plates for passing along the table will include bowls of homemade hummus with housemade pickles and pita bread; pide, enormous, boat-shaped flatbreads stuffed with cheese, spiced meat and a runny egg yolk; sweet potato fries loaded with tahini sauce, feta, tomatoes and slivered onions; and desserts such as Aleppo-spiced chocolate almonds and individual ice cream sandwiches with sweet dukkah cookies.
Courtesy of Cara Chigazola-Tobin
Turkish pide stuffed with spiced meat, cheeses and egg
Bar snacks such as crispy chickpeas and stuffed dolma will complement an extensive bar program stocked with local beer, Gibson's expertly crafted wine list, and cocktails accented with Mediterranean hints of rose water, orange and saffron.
"People support their communities in Vermont," notes Chigazola-Tobin. "'Craft' is a word that's thrown around a lot nowadays. But Vermonters take the techniques and philosophies behind craftsmanship and learn how to do something the best they possibly can. You cross the border into Vermont and enter the secret society of incredible Vermont farmers and products. Why wouldn't I support that craft?"