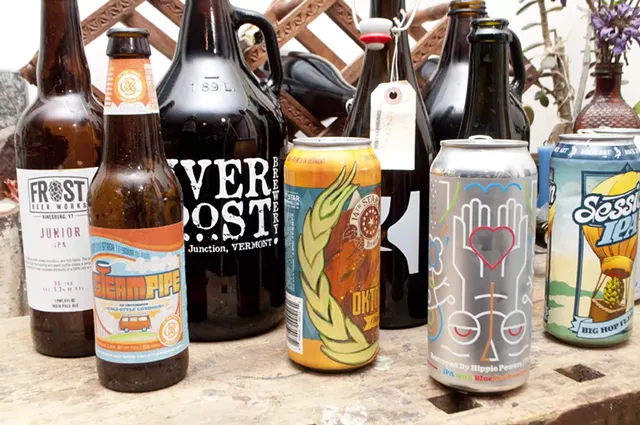 Hannah Palmer Egan
Vermont beer, circa 2016
Another year, another beer.
While 2016 felt like a holding-pattern year for brewing in Vermont — no major upsets or unexpected trends, no big surprises or innovations — local brewers produced a generous profusion of quality, creative beers that continued to blur lines between styles or throw out the rule book completely. This year, I drank IPAs flavored with hibiscus, lavender-scented saisons and sours tinged with cranberries and sage, à la Thanksgiving stuffing. And so many of them were excellent.
Past years have given us an abundance of new production breweries and expansions at established ones. But 2016 was more about small batches and big flavors, with new breweries looking to their local communities (rather than to statewide markets) for support.
So, a few trends:
New Production Breweries Focus on Brews for Everyday Drinking
In late winter, Williston's Goodwater Brewery shipped its first kegs. Demand was immediately strong for Marty Bonneau and Chris Capetz's approachable, easygoing brews, which were
available in their tasting room by mid-April
.
In September,
Farnham Ale & Lager added a South Burlington tasting room
to its operation, which, since late 2015, had relied on retail cans to get its pub-friendly beers into the world. Meanwhile, Good Measure Brewing
began brewing
an array of common-man styles, including a cream ale made with Early Riser flint corn from Butterworks Farm. By mid-December, co-owners Scott Kerner and Andrew Leichthammer had
opened their tasting room
.
If 2016 blessed drinkers with a few solid production breweries, some of its most notable openings came from industry veterans whose deliberate, well-crafted business plans asked hopheads to come to them.
In White River Junction, Mark Babson
opened River Roost Brew
ery
in early February. Distributors immediately started knocking; Babson's elegant, drinkable brews have gleaned universal praise from beer geeks and laymen alike. But the plan was to sell beer in growlers from the brewery's tasting bar, and to self-distribute kegs to a few Upper Valley locations. This allowed the brewer to keep demand in check and amass a loyal local following, while building an enviable reputation among the kinds of serious connoisseurs who are willing to travel for beer.
Matthew Thorsen
Left to right: Robert Grim, Sam Keane, Todd Haire, Jon Farmer, Dani Casey
On the Burlington waterfront, Foam Brewers
welcomed its first guests in April
, opting for a bar/brewpub format that kept all sales in-house. And sho' 'nuf, local drinkers threw their support behind the venture. Nary a summer Saturday night passed without a robust crowd crowding in for creative, funk-forward pints, ranging from silken, flower-tinged saisons to saturated IPAs to puckery but smooth barrel-aged sours from Foam's sister brewery, House of Fermentology.
Another of these well-prepared new brewers was Bar Antidote chef Ian Huizinga, who worked his way onto the brewing schedule at Bristol's Bobcat Café & Brewery. While he started making beer last year under the name Hired Hand Brewing, this summer, he gave those beers — many crafted with malts from nearby Peterson Quality Malt — a proper venue at a new
brewpub upstairs from his Vergennes restaurant
.
Nano-Breweries Quench Local Thirsts
In 2016, several homebrewers parlayed their love of brewing into teensy backyard nano-breweries. These highly personal, usually DIY spaces — run as moonlight operations and open on weekends — offered a window into Vermont's vernacular beer culture. Working on half- or one-barrel systems, brewers were free to make endless riffs on a recipe, or to experiment with homegrown hops, grains or botanical additions with minimal risk. And, as brewers poured pints and samples for visitors in their tiny, intimate tasting rooms, they created a space where visitors could ask questions and provide feedback on their brews.
In Danville, Erin and Jeremy McMullen and Judi and Peter McAlenney
opened Red Barn Brewing
in — you guessed it — a red barn on the McMullens' property in June. For Caledonia County locals, Peter McAlenney's easy-drinking ales and porters provided a ready excuse to head into the hills for a weekend pint.
By August, Ten Bends Beer had
joined the one-barrel fray
and begun serving an evolving spate of IPAs, along with ales light and dark, on Main Street in Hyde Park. In mid-autumn, Nic Volk
opened Kälte Brewing
in a shed behind his Morrisville home. While Volk's retail operation is limited to bottle sales, his focus on German styles gives Vermonters another angle into the Bavarian beer market, which until now has been mostly dominated by von Trapp Brewing.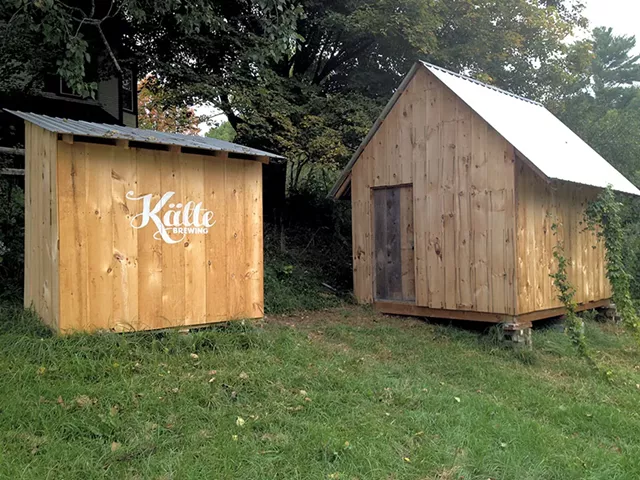 Speaking of the von Trapps: The Stowe brewery — led by brewer J.P. Williams — crowned an ambitious multi-year expansion with the
opening of its stunningly beautiful post-and-beam bierhall
just as fall foliage took flight. In addition to offering an airy new space for easy drinking (and that view!), the spot gives Stowe residents a place to enjoy chef Jack Pickett's cooking (Pickett's Phoenix Table and Bar, Frida's Taqueria and Blue Moon Café were local favorites). Finally, there's the opportunity to visit with front-of-house manager Paul "Archie" Archdeacon, whose Gracie's restaurant closed earlier in the year. Thank goodness!
Courtesy of von Trapp Bierhall
Inside the von Trapp Bierhall
Down the slope from Trapps' beer hall, John and Jen Kimmich
unveiled the Alchemist's new brewery and visitor center in July
, where you can generally grab cans of Crusher (DIPA), Focal Banger (IPA) and, oh yeah, Heady Topper.
Let's linger there a moment:
Do people still line up for Heady Topper and other coveted brews?
While I assume some do, I feel like I saw less of that this year. I might even argue that the rabid hysteria surrounding particular releases and breweries subsided somewhat in 2016.
Three or four years ago — when beer lines reached their high-water mark — throngs of visitors flocked to just a few IPA-giving locations, including the Alchemist's Waterbury cannery, Greensboro's Hill Farmstead Brewing and the Lawson's Finest Liquids booth at the Waitsfield farmers market. When the Alchemist and Lawson's dropped direct sales in favor of selling beer through retail outlets, the lines scattered to those outlets.
But lines for Lawson's became a thing of the past after the brewery farmed out Sip of Sunshine and Super Session production to Two Roads Brewing in Connecticut. Even as brewer Sean Lawson cut production in Warren to focus on
opening a new brewery in
Waitsfield
, the Two Roads contract has increased volume enough that retailers are able to keep cans in stock for many days after delivery.
Earlier this year, Hill Farmstead completed an expansion that streamlined its guest experience in expanded and amply staffed bar and retail spaces. During my several visits this summer and fall, I encountered short queues, if any.
Shorter wait times
While individual breweries have worked to diminish wait times, I have a feeling that the overall decline in the line is in part due to the sheer number of breweries producing excellent hop-driven brews, which were once available at just a handful of places.
Call it the "Vermont-style IPA," if you will. What began as a series of Heady Topper knockoffs has evolved into an expanding array of juicy, increasingly complex beers that range from barley-wine-strong ales to session beers that are low in alcohol but still drip with dense, hoppy character. For all but the most dedicated fans, the widespread availability of beers such as Burlington Beer Co.'s It's Complicated Being a Wizard, 14th Star Brewing's Tribute and Long Trail Brewing's Space Juice — all crave-worthy — has made line waiting a thing of the past.
If Vermont IPAs cemented their place in the brewing lexicon this year, many local brewers threw out the rule book and offered experimental brews that came with a heavy dose of creativity.
Courtesy of Wunderkammer Bier
Wunderkammer Bier brewed with wild sumac
I was excited to see a growing number of fun and fascinating beers that bucked the malt-hops-yeast formula by introducing botanicals at various stages of the brew.
In Greensboro, releases from Hill Farmstead brewer Ryan Witter-Merithew's Casita Cerveceria — mostly brewed at Hill Farmstead — played with everything from lemongrass and citrus to rhubarb, juniper and pine. Fellow Hill Farmstead brewer
Vasilios Gletsos followed suit with Wunderkammer Bier in late fall
, brewing beers flavored with sumac and citrus, lichen and turkey-tail mushrooms. There were too many other examples to mention here.
Breweries old and new continued to favor the indestructible, inexpensive can over other forms of packaging.
In late summer, Rock Art Brewery cut 12-ounce bottles from its production line and explained the move as a response to consumer demand. "It seems most customers are gravitating towards cans," read the brewery's September newsletter.
While I don't doubt that, simple math offers another reason: 16-ounce cans, sold in four-packs, convey a better per-ounce price for beer. With their shiny, increasingly flashy labels, cans typically command $12 to $14 for 64 ounces of beer. Meanwhile, 12-ounce six-packs offer 72 ounces of beer for $9 to $13, with rare exceptions. To compete ounce-for-ounce with four-packs, price-wise, six-packs would need to average (not top out at) $14.63 each.
Will craft beer bottles go the way of the dodo bird?
My guess: 22-ounce bombers will stick around for limited and special releases, but 12-ounce six-packs have already become endangered species, and, eventually, so will 12-ounce cans.
Finally, my picks for the best beers of 2016.
Best everyday pale ale
: Hoppy Side of Pale, Goodwater Brewery
Best wheat ale
: My Darlin', River Roost Brewery
Best single-hop brew
: Double Galaxy, Hill Farmstead Brewery
Best botanical ale
: Destroyed by Hippie Powers (with blue pea shoots), Burlington Beer Co.
Best debut release
: First Drop, Upper Pass Beer*
Best hybrid style
: India Pale Lager, von Trapp Brewing
Best political beer
: Bernie Weiss, Zero Gravity Craft Brewing
Best sour
: Orange Dot, Purple Dot, Pink Dot (all the dots!) ... House of Fermentology
Best cream ale
: Early Riser, Good Measure Brewery
Best kölsch
: Orion, Red Barn Brewing
Best saison
: the Purple One, Foam Brewers
Best brown ale
: Brown Ale, Fiddlehead Brewing
Best autumn-winter beer
: Damos Gracias, Casita Cerveceria
Best fruit beer
: Danube blueberry weizen, Idletyme Brewing
Best stout
: Dancing Goats, River Roost Brewery
And which of 2016's new breweries was the fairest of them all?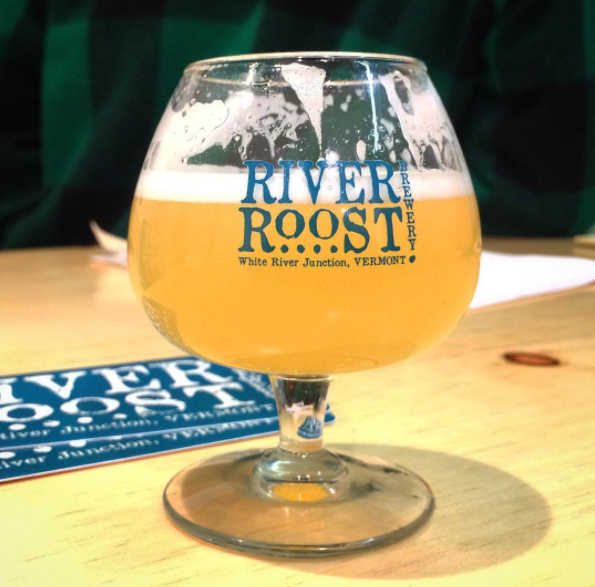 Hannah Palmer Egan
Sampling a beer at River Roost Brewery
That's River Roost Brewery.

Full disclosure: I grew up with, and remain dear friends with, brewer-owner Mark Babson's wife, Sarah McKelvey. As a journalist, I must look at all breweries with impartiality; giving preferential press to friends is an absolute, don't-do-it-ever, 100-percent no-no.
So it's pretty awkward for me to write about River Roost. But over the past year, I've visited the brewery dozens of times. I don't get discounts, and I try each beer whenever I go. I can think of exactly two — an early milk stout and an autumn release called Oompah Bier — that I didn't love. But all the others — from a creamy, smooth oatmeal stout to a quaffable wheat beer with a citrus hop bouquet — easily outpace comparable beers from other brewers that I hold in high regard.
So, for me — stated without reservation and purely based on flavor — the choice is no choice at all. River Roost is absolutely the best new brewery of 2016.
Cheers!
*Correction, January 11, 2017: An earlier version of this story misidentified the best debut release beer of 2016. It is called First Drop.