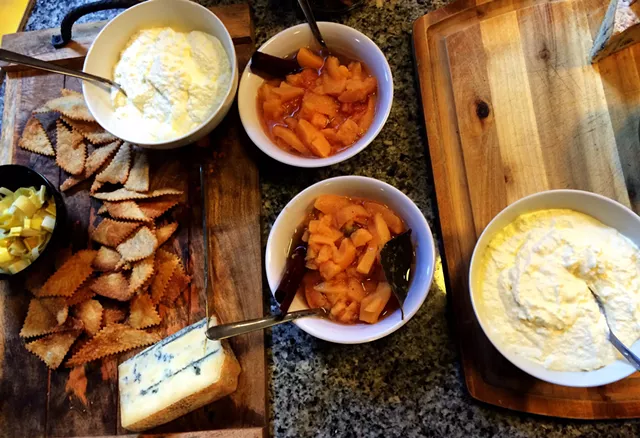 Julia Clancy
Local cheeses and spiced quince compote
The
recent release
of the first-ever
Oxford Companion to Cheese
— edited by University of Vermont nutrition and food science professor
Catherine Donnelly
— inspired me to spend a chunk of my paycheck on Vermont-made cheddar, goat's milk tomme, Camembert aged in its bloomy rind, and a gorgeous wedge of blue that my next-door neighbors can probably smell.
Usually, the only accoutrement I like with a cheese plate is a good knife and a box of crackers (
Patchwork Farm & Bakery
's "Everyday Matzoh" crackers, here's to you). But it's the holiday season and I'm feeling fancy.
To accompany your decked-out holiday cheeseboard, here are four minimal-effort trappings to complement that great Vermont dairy.
Cranberry Mustard
This is a blender recipe at its finest. Wash 2 cups of fresh cranberries, then add them to a blender with 1/2 cup maple syrup, 1/4 cup grainy mustard and the juice and zest of one orange. Pulse 10-15 times at about 3 seconds per pulse, until the mixture is a coarse purée. Serve with
Sweet Rowen Farmstead's
"Storm" (it has enough funk to resist being overpowered),
Fairy Tale Farm's
"Tomte" or any cheddar you can get your hands on.
Pickled Apples With Coriander and Maple
These apples are quick-pickled and stored in the fridge. Once made, I use them liberally: topped on a Thanksgiving leftovers turkey sandwich; diced with parsley and mixed with salted yogurt to dollop on roasted vegetables; layered under mascarpone cream, chopped nuts and an extra swath of maple for an offbeat but decadent dessert. With an aged hard cheese and a pile of
Jan's Farmhouse Crisps
, these apples are a go-to.
In a saucepan, combine 1 cup water with 1/2 cup maple syrup,1/2 teaspoon salt, 2 star anise pods, 10 grinds of fresh black pepper and 1 cup vinegar. (I like to use cider vinegar, but white wine vinegar and champagne vinegar work nicely, as well, and have a more delicate pickling flavor.) Bring everything to a boil, then reduce the heat to low and keep it at a steady simmer for 8 minutes. While your brine is simmering, wash, halve and core 3 large, firm apples (Pink Lady, Granny Smith, Northern Spy, Keepsake — whatever floats your boat). I don't peel them, but you can if you'd like.
Cut each apple half into 1/8 inch slices and layer the slices in a pint jar. Pour the pickling brine into the jar until all the slices are covered, leaving the lids off until everything comes to room temperature. (Pour any leftover brine over thinly sliced vegetables, like carrots or turnips, and store in the fridge until the veg are pickle-y, about 2 days). Lidded and stored in the fridge, these apples keep well for up to one week.
Spiced Quince Compote
Those fuzzed, knobby things at the grocery store are edible, but only when cooked. Raw, a bite of quince will leave a lingering bitterness on the walls of your mouth that even a hunk of cheddar can't fix. When cooked, the tannic fruit collapses into tender, blush-colored slivers that taste mellow and sweet, like roasted pears and nutmeg. The natural spice notes are upped in this recipe with a hit of allspice berries, cinnamon, cardamom and clove.
Put 3 cups of water in a saucepan with 1 cup sugar, 6 allspice berries, 4 cardamom pods, 2 cloves, a cinnamon stick, a bay leaf and the zest and juice of 1 orange. Simmer everything together until the sugar dissolves completely, about 3 minutes. Meanwhile, wash and peel 4 ripe quince, then quarter them and remove the cores. (A good, sharp knife is useful here — these fruits are stubborn, but worth it.) Add the quince slivers to the syrup and simmer until the fruit is fork-tender, 45-55 minutes. Allow the quince to cool in its syrup until it reaches room temperature, about 1 hour. Serve with a young, soft cheese, such as fresh ricotta or tender chèvre.
Honey Baked Camembrie With Almonds
With this recipe, once your oven is heated, it's about five minutes until the peak of cheese-board decadence. This is a favorite holiday (or football Sunday) staple in my family — the smell alone makes me run for a crusty loaf of bread.
While the oven is preheating to 425 degrees, place a wheel of Camembert, Brie or, for the best of both worlds,
Blue Ledge Farm
's Camembrie, in an 8-inch-square Pyrex baking dish. Make two slices in opposite sides of the cheese about 1/2 inch in toward the center. Spoon two heaping tablespoons of honey over the top of the cheese and around the sides, then scatter a handful of slivered almonds over the whole dish. Bake in a hot oven until the honey is bubbling and the cheese is fragrant and oozy, 5-7 minutes. Serve hot right from the baking dish, with lots of bread on the side.