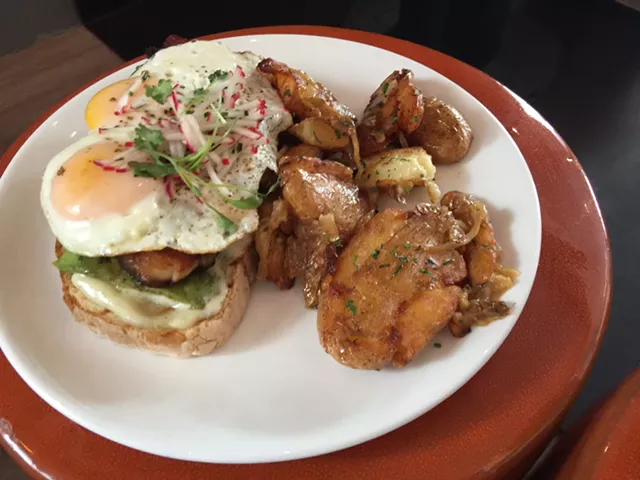 Jon Bacon
Avocado toast with pork belly at Picnic Social
One of the most fun meals I ate in 2016 was at Stowe's
Picnic Social
, which is located inside of
Field Guide
, a boutique hotel on the Mountain Road. In between bites of nearly everything on the menu, my guest and I played cornhole and tabletop shuffleboard. We joked around with the staff. Best of all, the food and drinks tasted great.
So, when I found out that the spot would be adding brunch on December 10, I couldn't wait to try it out. Just an hour after brunch service debuted, I showed up with a friend to sample the wares. Only one other party preceded us, but, as we ate, more and more folks trickled in.
Suzanne Podhaizer
Elizabeth Podhaizer plays shuffleboard at Picnic Social
The restaurant encompasses several seating areas, including an ample bar. We plopped down on some comfy couches in a room decorated like a hipster hunting camp — the wallpaper is plaid and fake deer skulls hang on the wall. A nearby windowsill had four USB plug-in slots for your device-charging needs. We got in a few rousing games of shuffleboard before our drinks appeared.
The libations included a classic hot toddy and a more exotic, kimchi-juice-laced drink styled after a bloody Mary. Both were excellent, although savory cocktails are always more to my taste. The robustly seasoned tomato juice paired particularly well with our meals.
One entrée consisted of toast topped with avocado, pork belly, ranch mayo, a pair of eggs, and baby potatoes that were perfectly crisped and smashed. The other, oxtail hash, also featured potatoes, as well as a creamy swoop of parsnip purée, and was garnished with basil.
A buckwheat pancake, delivered gratis, came with nutty granola and tender cooked apples. The flapjack itself was nutty-tasting and not overly sweet.
After two great meals at Picnic Social, I'm ready to include it in my regular restaurant repertoire. "Would you come back?" I asked my dining companion. His response: "I'd come back tomorrow!"