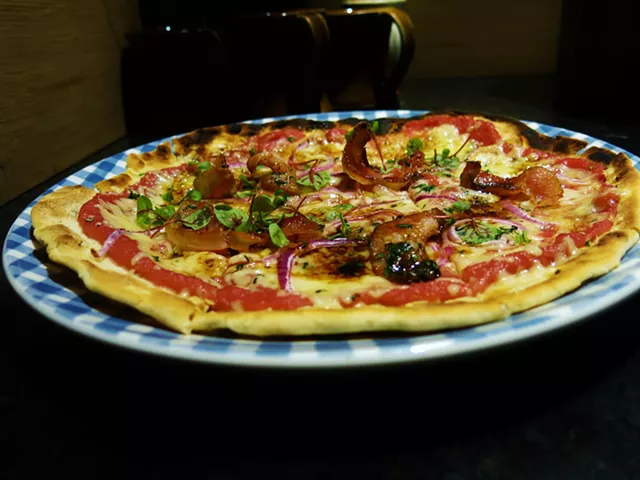 Hotel Vermont
Seasonal flatbread at Juniper restaurant in Hotel Vermont
Philanthropic psychologist Jen Shang says that Americans use nine words to describe a moral individual: "kind, caring, hardworking, compassionate, helpful, fair, friendly, generous and honest." Extra points for "strong, responsible and loyal," as well.
Come holiday season, bells ring for donation boxes, and charity gift drives mark the entrances of churches and grocery stores. Opportunities abound — both at the year's end and past it. When and where do we act first?
"A Dish for Veterans," a recent initiative by
Juniper
restaurant at
Hotel Vermont
, suggests that giving can start with a flatbread.
A funny mental process accompanies the act of giving. According to Shang, the psychological transformation from
awareness
of a charitable opportunity to the actual
giving
of money or goods is "the process of integrating [a cause] from the external world into one's most inner sense of who they are." In short, we're more likely to give to something that's meaningful to us as individuals; something that's both indicative of and understood by our own experiences.
It's hard to rally that kind of personal connection with each opportunity to support a cause. Research shows that humans brains are hardwired for empathy, but it also shows that empathy is malleable based on personal and cultural contexts. Taking money from one's own limited funds, putting it in a box and walking away is a psychological mind-bender: What happens next?
"A Dish for Veterans" at Juniper provides an interesting solution. For three months, from Veterans' Day onward, the restaurant is changing the pricing on its flatbread to support
Canal Street Veterans Housing
, a
Committee on Temporary Shelter
program in Winooski.
Here's how it works: First, Juniper diners order the seasonal flatbread from the lunch or dinner menu. Next, a crusty, bubbling pizza — currently topped with
Jasper Hill
cheese, smoked pork jowl, crab apple and slivers of red onion — arrives at the table. Then, diners decide how much they'd like to pay for the dish, with a suggested donation of $20 (the flatbread's usual cost is $18).
At the end of the week, Juniper gives all of the donated costs — above the costs of producing the flatbread — to COTS' Canal Street organization.
COTS is Vermont's largest service provider for the homeless and those at risk of becoming so. Canal Street offers housing, as opposed to temporary shelter, to veterans and their families for up to 24 months, giving residents time to transition back into the community. "A Dish for Veterans," says Hotel Vermont's press release, was inspired by the effort to combat homelessness among Vermont's veteran population, and to support
the recent deployment
of the Vermont National Air Guard.
"The flatbread is a broader-appeal dish," explains Juniper's executive chef, Doug Paine. "It's a good way to raise awareness because it prompts conversations within a group going out to dinner. Maybe they'll order more than one, or donate extra at the end of the meal."
Talking about a close-to-home organization in a convivial social atmosphere — and eating slices of cheesy, locally sourced flatbread — perhaps makes Shang's psychological jump easier to swing. When interlacing awareness of a single cause with personal familiarity and connection, sometimes morals are enough to bring empathies forward. Other times, giving might start with a flatbread pizza.