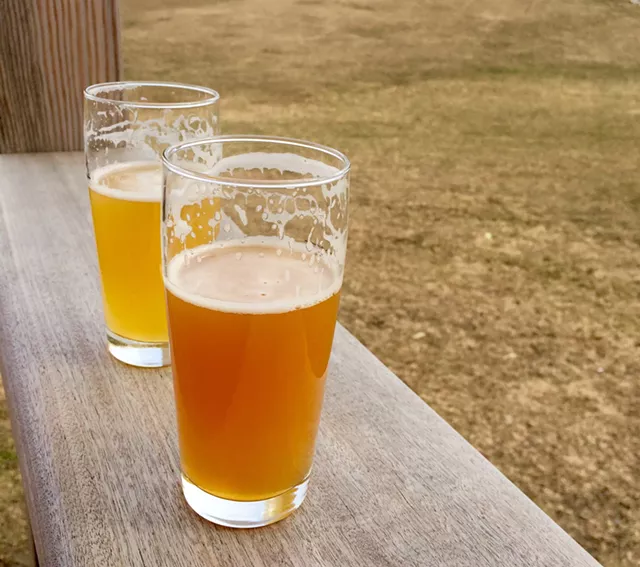 I moved to Vermont in September 2015 with an English degree, a background in restaurant cooking and a lime-colored Dutch oven seat-belted in the passenger side of my Volvo. I drove past
Drop-In Brewing
in Middlebury and thought of a friend from Ireland, where I had spent four months at a cooking program on a hundred-acre farm in County Cork.
He was a New Zealand brewer-cum-chef; I was an aspiring American cook trying to emulate my brother's homebrew talents. We brewed a stout and a dry-hopped elderflower pale ale in the green Dutch oven and stored the brews in a neighbor's broom closet. We bottled on Halloween after our herb and spice exam, and popped the bottles on Thanksgiving after a 13-hour day in the kitchen. The pale ale was terrible.
The stout, though, made me think of my brother. It was good: smooth, dry and slightly briny, it tasted more like black olives than dark chocolate or coffee. My brother, had he not been 2,900 miles away in Boston, would have liked it. My father and mother would have poured themselves a pint with a bowl of kettle chips while watching HBO, a high achievement for any brewer.
But that holiday season, my parents and three siblings were back in the States, eating turkey and yams and planning a weekend trip to
Stratton Mountain
. I was in Ireland, not alone, not homesick, but not
not
homesick. I sipped the stout as more cooking-school friends showed up with loaves of bread and sticks of butter for Thanksgiving dinner. As we turned on the first Christmas songs of the season, I wondered where I could live that I could do this for a living: enjoy good beer and write about it.
Over the year since moving to Vermont, I've imbibed a lot of good beer. Some of the best in the world, in my opinion, though I'm not alone among Vermonters in my local loyalty. On the brink of 2017, I'm highlighting my seven all-time favorite sips so far within state borders.
So, cheers to another year of Vermont treasures — and to being thoroughly spoiled by them.
Seven Favorite Beers of 2016
Chasing Rabbits
(American-style wheat ale, 5.7 percent ABV), Burlington Beer Company, Williston.
Chasing Rabbits is my most-craved Vermont beer of 2016, regardless of the season. I carried a four-pack home for Thanksgiving, because as good as it is on its own, it pairs well with almost anything (including a stacked post-Thanksgiving sandwich).
Orange Dot
(American wild ale fermented on honey and roasted Cara Cara oranges, 6.5 percent ABV), House of Fermentology, Burlington.
Dear brewers Bill Mares and Todd Haire,
Thank you for teaching me to adore sour ales again. The above description explains itself: This one's a stunner.
First Drop
(American pale ale, 5.7 percent ABV), Upper Pass Beer, Tunbridge.
Soon after Upper Pass Beer's late 2015 launch as a one-barrel farmhouse brewery in Tunbridge, brewers Andrew Puchalik, Chris Perry and Ivan Tomak partnered with
von Trapp Brewing
in Stowe to brew 100 barrels of "First Drop." This piney, lusciously hoppy APA is dense and deep without a heavy mouthfeel or a weighty ABV. Last August, Upper Pass began canning its APA to give the hyper-local brew a wider in-state audience. The brewers thus joined the neighborhood of Vermont craft beer like a new favorite band: with a solid first drop kept on replay.
Prospect
(American Double/Imperial IPA, 9 percent ABV), Foley Brothers Brewing, Brandon.
When working at
Otter Creek Bakery
in Middlebury during my first few months in town, a regular dropped off three fresh, unlabeled bottles of Prospect in the cooler for me and a couple OCB employees. It was left for us on the shelf near Ben Woods' homemade roast beef. When poured, the bright, orange-hued beer had a lace of foam around the top. When sniffed, it smelled resiny, like a cut Christmas tree. When sipped, it had layers of depth, from squeezed grapefruit to malted caramel and spruce tips. I've poured it many times since, and nothing beats a glass straight off the tap. Kind regulars, thank you.
The Purple One
(Black currant saison, 4.5 percent ABV), Foam Brewers, Burlington.
Dear Todd Haire,
Did you get my previous note about sour ales? You've done it again with fruit beers. After an unfortunate encounter with a lukewarm framboise lambic in college, I thought fruit ales — especially ones on the sour spectrum — were cloying and syrupy. This saison proves all of that wrong. It's lush but bone-dry. The tart-sweet blackcurrant juiciness is cut by balanced hops, an off-sour funk and something slightly savory, like white pepper. Thanks again — this one was well worth the recipe tests.
Society & Solitude #8
(American imperial pale ale, 8 percent ABV), Hill Farmstead Brewery, Greensboro.
My first trip to Hill Farmstead Brewery last March felt like pulling back the wardrobe doors to Narnia. My boyfriend and I got lost around Craftsbury. We stopped at the
Craftsbury General Store
for turkey sandwiches, and then devoured a box of Irish biscuits I haven't seen anywhere else stateside. We spontaneously ran into Scott Peacock, a James Beard Award-winning chef. He co-authored
The Gift of Southern Cooking
with Edna Lewis, the renowned chef and author who helped codify American southern cuisine. I was secretly pleased we ordered the same sandwich.
Narnia continued to Shaun Hill's brewery, where the day got stranger: Only three other people were in line upon our arrival. My boyfriend and I decided to celebrate with two pints on the back porch and growlers to-go of Society & Solitude, the eighth version in the brewery's now nine-part Philosophical Series.
Mastermind
(American double/Imperial IPA, 8.1 percent ABV), Fiddlehead Brewery, Shelburne.
One of Fiddlehead's few can releases, Mastermind is so good with a
Folino's
pizza it could brewed with John and Buddy Koerner's sourdough pizza crust (kidding, kind of). It has a mellow creaminess like sliced tropical fruit, but a heady blend of hops that keeps it bright, bitter and decadently juicy. I can't even put into words how much I'm currently craving a cold can of Mastermind and Folino's pepperoni pizza.
Honorable Mentions
Queen City Brewery Munich Dunkel
(Bavarian-style dark lager, 5.2 percent ABV), Queen City Brewing, Burlington.
My mother's favorite Vermont beer, she'd like me to point out. It's one of mine as well. This is an expertly balanced dunkel with the nostalgic flavor of those perfect pours of Guinness I'd covet at the Irish pubs after class.
Leaf Peeper
(English best bitter, 3.9 percent ABV), Simple Roots Brewing, Burlington.
A straightforward English bitter with the malted, toasty smell of raked leaves (really). The cozy copper ale is ideal for pumpkin season.
Swamp Monster in Love
(American pale ale, 5.7 percent ABV), River Roost Brewery, White River Junction.
With a bowl of buttered popcorn, this one puts me into food euphoria. But, simple and nuanced, Swamp Monster in Love pairs well with most things —including but not limited to cheeseburgers, roasted squash, blue cheeses, hard aged cheeses, chips and guacamole, potato chips, garlicky kale, fried rice with hot peppers, scrambled eggs on toast with salad, roast chicken, peanut noodles and pecan pie.