Hannah Palmer Egan
Pupusas at Esperanza Restaurante
Last Thursday, the open flag flew outside 180 Battery Street in Burlington as
Esperanza Restaurante
welcomed guests for its first day of business. The restaurant is now open for lunch and dinner, Tuesday through Saturday.
The menu was as advertised prior to opening — in November, co-owners Gerber Rodriguez and Cynthia Nabalitan
told Seven Days the new spot would serve dishes from their native countries of El Salvador and the Philippines, respectively.
The menu also incorporates Mexican dishes from Esperanza's predecessor, Madera's Restaurante, where Rodriguez worked for several years.
With about 100 seats, Esperanza is a large restaurant by Burlington standards. On Thursday, lunch guests nibbled enchiladas and fajitas scattered throughout the restaurant as Nabalitan tended the host stand.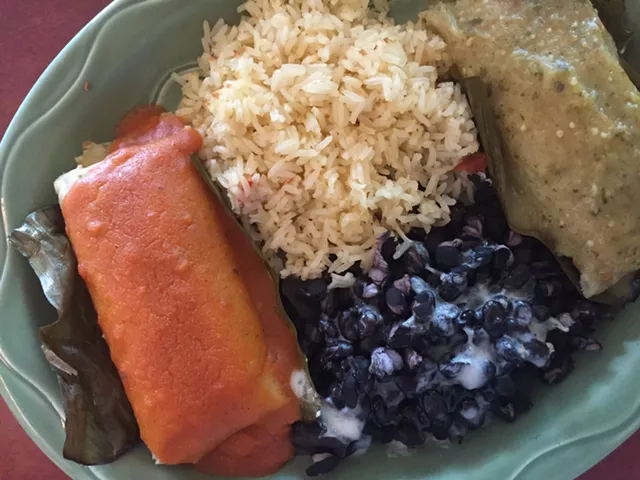 Hannah Palmer Egan
Salvadoran tamales (beef, left; chicken, right), rice and beans
At first bite, Esperanza showed strength in its Salvadoran fare. A plate of pork-and-bean pupusas — those stuffed corn pancakes made by thumbing filling into a ball of masa, then patting it flat as one would a tortilla — were griddled to a light crisp, their insides steaming and gooey. A side of salty, lightly pickled curtido (shredded cabbage) added a chewy shot of sour freshness.
An entrée of Salvadoran tamales, which are somewhat larger than their Mexican counterparts and wrapped in banana leaf instead of corn husk, were hearty and filling, and helped by the red or green chile sauce that smothered them. And the rice — fried with onion and well salted — tasted as if it had come straight from Central America.
Hannah Palmer Egan
Pan con pollo at Esperanza Restaurante
My lunch date's pan con pollo sandwich — a classic Filipino lunch in the form of a pillowy telera roll stuffed with tomato-stewed chicken and fresh veggies dressed with jalapeño mayo — could have benefited from a little extra something.
On day one the food was a tad hit-or-miss, but Rodriguez's spot-on execution of his own native fare gives me
esperanza
— that's hope in Spanish — that his ceviches might be prepared with the proper amount of zing, and that Filipino dinner dishes might come with South Pacific tang.
Only one way to find out ... And the pupusas are already calling me back.