Julia Clancy
Kevin Toohey with a tray of truffles at Bijou Fine Chocolate
"Chocolate is more akin to glass than food," says Kevin Toohey, master chocolatier and cofounder of
Bijou Fine Chocolate
in Shelburne. He pulls a sheet tray of truffles from a standing rack: squares of dark chocolate blanketing handmade almond marzipan. The chocolate is sleek and glossy. There's an unmistakable, deep-cocoa fragrance. It looks far more appetizing than glass.
But Toohey has a point. Like glass, chocolate has a crystalline structure. Cocoa butter — the fat obtained from cocoa beans — is a six-phase polymorphic crystal that gives chocolate its physical structure. To temper chocolate is to manipulate the structure of the cocoa butter to create a silky, glass-like finish instead of one that's granular, oxidized or crumbly. Chocolate is melted, tempered and rapidly cooled to become a noncrystalline, amorphous solid. "Amorphous" materials include glass, plastic, gel ... and fine chocolates made in the Swiss tradition. Like Bijou.
This is perhaps more science than one needs when snapping a dark square from a chocolate bar, melting cocoa powder into hot milk or heating Hershey's on a graham cracker under a toasted marshmallow. Bijou's chocolates extend the craft farther, creating confections without added crutches such as emulsifiers or preservatives. As Toohey mentions, chocolate should be a short list of ingredients rather than a laundry list in fine print. The inputs are few, he reiterates: cocoa and cocoa liquor (the essence of the cocoa bean), cocoa butter, sugar and, perhaps, spices or flavorings such as cinnamon or vanilla bean.
Like wine and coffee, the variance of flavor in a bar of chocolate has to do with cocoa beans, terroir, fermentation, roasting and conching. Conching is the act of reducing particle sizes of cocoa solids and sugar crystals; it's churned in a mixer that resembles an old-fashioned water wheel atop a vat of chocolate.
While bean-to-bar chocolate making — the pillar of what's been coined the "new American chocolate movement" — creates chocolate from scratch using individually sourced beans, the Swiss tradition of chocolaterie takes high-quality chocolate and crafts it into luxurious bars, truffles and confections.
Toohey, who trained under Swiss chocolatiers André Bollier and René Nussbaum, says an incentive behind running Bijou Fine Chocolate is to help "expand such traditions to a younger generation."
So far, he's done a good job of spreading the knowledge. Laura Toohey, Kevin's business partner and wife, trained with Kevin to become a head chocolatier and, in Kevin's words, the "master of the truffle." When the couple opened Bijou in Shelburne's
Vermont Artisan Village
in March 2015, they also employed their son, Rowan, and their daughter, Virginia. The siblings are assistant chocolatiers, creative developers and production and retail managers within the family team.
Julia Clancy
Left to right: Virginia, Kevin, Laura and Rowan Toohey of Bijou Fine Chocolate
The Bijou café is a quiet oasis tucked in a barn-red building off Route 7. Hardwood floors and white walls offer an airy space for shelves of single-origin bars, a scattering of sit-down tables and a display case lined with handmade confections. Harney & Sons loose-leaf teas are nestled behind the bar in their shiny canisters, brewed for patrons looking to linger over their chocolates with a full pot at a nearby table.
There are slivers of chocolate-dipped orange peel and candied ginger, chocolate-covered espresso beans and fleur de sel caramels wrapped in a red-ribboned box. There are truffles, lots of them, lined up like behaved school children behind the bar-top display. Jasmine tea truffles, passion fruit truffles, raspberry truffles, café au lait truffles and truffles filled with cardamom-coffee ganache. A large rectangular confection next to the dark chocolate pretzels turns out to be homemade shortbread dunked in sea-salt caramel and swathed in chocolate. (This also turns out to be great dipped in a hot mug of coffee.)
Then there are the cocoa almonds, "a Bijou specialty," says Kevin. The almonds are roasted, caramelized, triple-coated in dark Colombian chocolate and finished with a dusting of cocoa powder.
"Those are Virginia's specialty," adds Rowan as Virginia carefully tips an aromatic batch of fresh cocoa almonds into individual bags. The chocolatiers agree that one thing is certain in the coming holiday season: Bijou will be busy.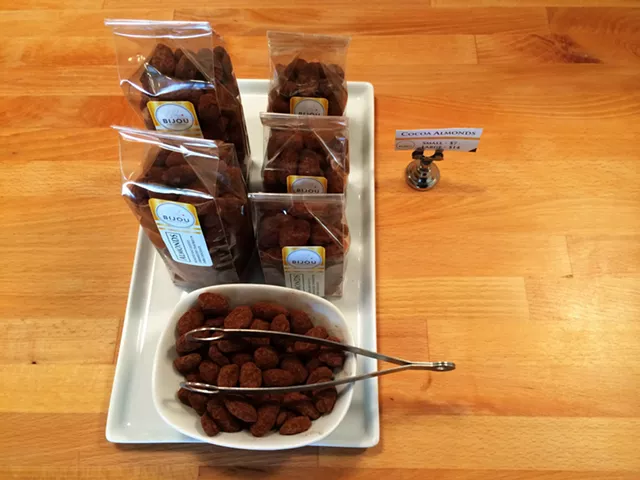 Julia Clancy
Cocoa almonds