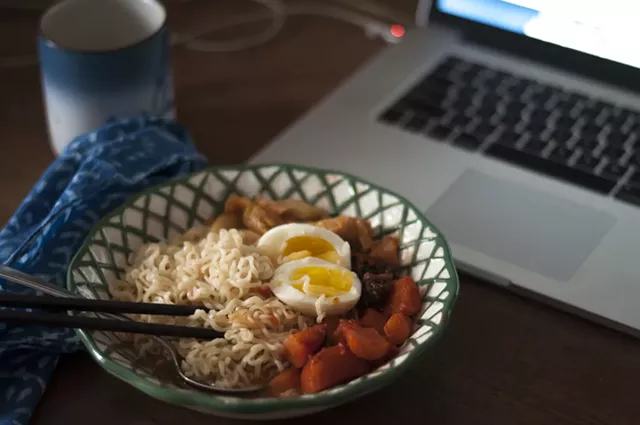 Hannah Palmer Egan
Breakfast ramen with kimchi and egg
I've said it before and I'll say it again: I'm useless without breakfast. And for the past few months, I've been on a breakfast ramen kick. On work mornings, I awaken to noodles, tinged orange with runny egg yolk and sesame-scented chile-miso broth. A kimchi kick punctuates each slurp.
I usually use packaged dry ramen because I can get it anywhere and it costs a quarter. But when I can, I'll upgrade to fresh ramen from
Vermont Fresh Pasta
(check the fresh pasta section at your co-op or supermarket). And — especially for folks who don't
ferment their own kimchi
— most of the other ingredients are readily available from local purveyors.
Rhapsody Natural Foods makes
fantastic miso
(find it at your local co-op or natural market); grab kimchi from
Sobremesa
,
Sunja's Kimchi
,
Vermont Probiotica
and
Flack Family Farm
, among others, at farmers markets and food stores around the state. And eggs, of course, are far and away one of the easiest local foods to find.
Not into spicy, tangy vegetables for breakfast? Understandable, I guess. But this healthy 10-minute meal is great for lunch or dinner, too.
Breakfast Ramen With Kimchi and Soft-Boiled Egg
Cook time:
10 mins
Yield:
One ramen bowl
Ingredients:
1 egg

1 package ramen noodles

1 teaspoon miso
Splash tamari or Bragg Liquid Aminos
Splash sesame oil
1 teaspoon Sriracha, Sambal oelek or other Asian chile sauce (optional)
1/2 cup kimchi
Preparation:
In a small saucepan, heat enough water to cover an egg. When water hits a rolling boil, add the egg and boil for six minutes. Remove and plunge into cold water. Boil noodles (discard flavor packet) for three minutes or whatever it says on the package.
While the egg and noodles are cooking, mix miso, tamari, oil and chile sauce in a soup bowl. Add 1/2 to one cup hot water (noodle water or tap) and blend until smooth.
Strain noodles and add to miso bowl. Toss and add more tamari to taste.
Top with kimchi and peeled egg and eat straight away.