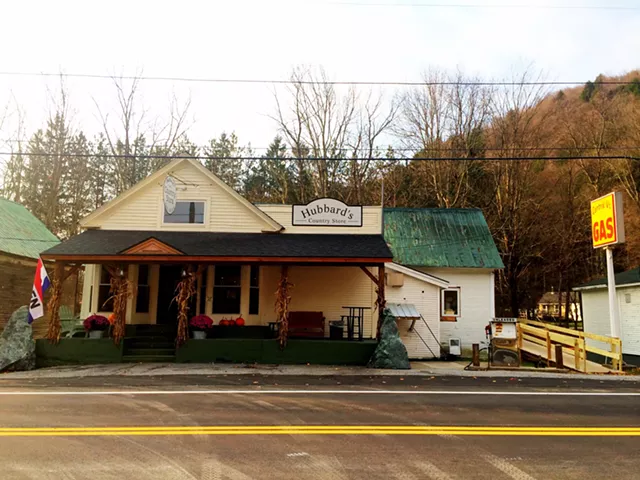 Julia Clancy
Hubbard's Country Store in Hancock
Sara and Jon Deering purchased
Hubbard's Country Store
in January 2013. The small building off Route 125 in Hancock had sat deserted, next to a one-pump gas station, since it was vacated by previous owners a couple of years earlier.
Tropical Storm Irene had left her mark. The house needed to be jacked up and leveled. The basement needed gutting, the infrastructure stabilizing. The pipes, which sat vacant for too long, had burst in the interior walls, leaving behind even more damage.
"I had a vision of the store becoming a better version of itself," says Sara Deering. "My husband [Jon] and I live here in Hancock. We're a small community, and there's a need for a general store locally."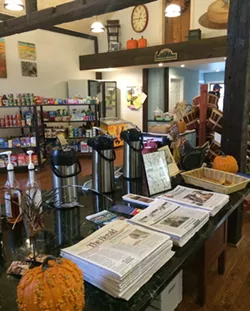 Julia Clancy
Hubbard's Country Store in Hancock
The Deerings, who also operate
Deering's Service Center
and
JD's Quick Stop
on Route 100, saw the empty store for sale and knew it would soon be offered in a January 2013 auction. The couple had already invested years and dollars in the small nearby businesses, and wanted to keep doing so in their own community, Sara notes.
"I didn't think it would happen," she continues. "That we'd buy it. I didn't think we could afford it. But it just turned out to be the right place at the right time."
The newly renovated Hubbard's Country Store opened in early July this year. The historical framework of the building, erected as a barn house in the late 1800s, is still apparent in its one-story skeleton. The floors are hardwood, and the exposed beams and high ceilings keep the single room open and airy.
Trolley carts lined up like grocery aisles stock local beef, yogurt, caramels and mustards, as well as Oreo cookies, Ziploc sandwich bags and Betty Crocker boxed mashed potatoes. Reach-in coolers store Bud Light along with
Stowe Cider
; Pabst Blue Ribbon and
Zero Gravity
Conehead; Coors and
Groennfell Mead
. Blown-glass bowls from
Green Mountain Glassworks
dot the countertops near wall-hung paintings and prints by Middletown Springs artist
Peter Huntoon
. A stand-alone table down the store's center holds self-serve coffee, a basket of bananas and a couple of daily newspapers.
On an early Thursday morning, a Hubbard's regular sips her morning cup at a tableside window. She looks up from the paper and chuckles to herself as an 18-wheeler pulls to the curb beyond the window, blocking the outside foliage from view. The distribution truck doesn't unload anything for the country store. It stalls for 10 minutes before pulling back onto 125 and carting its contents onward.
"That dang candy truck again," the regular remarks with a head shake and another chuckle. The window, no longer blocked, reveals the scene beyond Hubbard's front porch: changing leaves, a parking lot and some distant blue mountains in the morning fog.
Behind the cash register, Deering rings up a customer for homemade peanut butter fudge and a hunk of cheddar chiseled from the enormous orb of Cabot Extra Sharp in the deli case. Baked goods stacked around the front counter are made in-house by local baker Elissa Klingensmith. This month, it's seasonal fare such as pumpkin custard pie and apple galettes along with a banana-chocolate chip bundt cake glazed with browned-butter icing.
"There's always been a store five miles down the road in Rochester," says Deering. "But it's different having a store here. People like to have a sense of community — a store really brings that."
When asked about future plans for the still-new country store, Deering says she wants to keep it local. "We hope to keep offering more products that I really believe in," she says. "We want to support local artists and family-oriented vendors, from food to crafts." She pauses to arrange a tray of wrapped fudge brownies on the countertop near the register. "In Vermont, that's important," Deering adds. "But we have to work together to put it on — that's what makes a community."
A couple of Hancock locals are chatting on the front porch outside. The covered stoop is decorated for harvest season: Rows of sugar pumpkins line the front windows and dried-out corn leaves cling to wooden pillars. A red, white and blue "OPEN" flag hangs still in the cold air.
After 200 years as an operating general store, a few years of abandonment and another couple of renovation, store's flag is a reminder that time only moves in one direction.