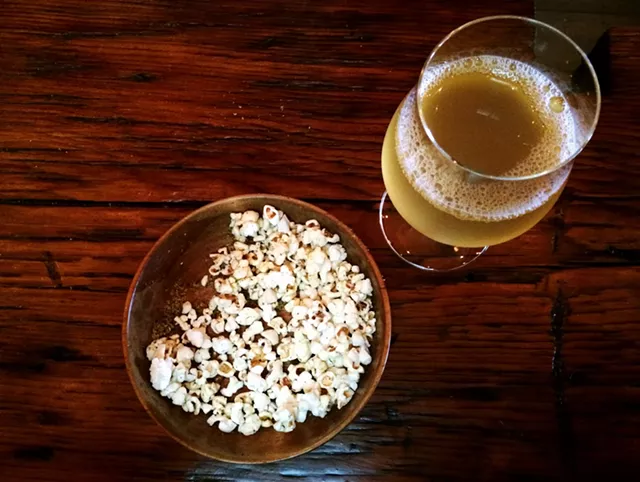 Julia Clancy
Draft of cider and herbed popcorn at Shacksbury Cider's tasting room
Last Friday, the duo behind
Shacksbury Cider
, Colin Davis and David Dolginow, opened the doors to their
new Vergennes tasting room
in the
Kennedy Brothers
building at 11 Main Street.
Well, kind of. Although the full tasting room is still under construction, the cider guys began hosting a pop-up version dubbed the Loading Dock Lounge. On Fridays and Saturdays from 2 to 6 p.m., the bar is open for specialty drafts, flights and cans of Shacksbury Dry and Semi-Dry. Bowls of salty, herbed popcorn are available for snacking at the wide hardwood bar top.
To find the Loading Dock Lounge, start in the gravel parking lot near the white-brick portion of the KB building. Find the empty, overturned apple crate mounted with a wooden plank that's painted with the word "Refreshments." An arrow points you to the door of the tasting room — which isn't really a door but the absent wall of a partly sheltered loading dock.
Follow the stairs to the renovated train platform and sidle up to the bar. The remaining three walls and your own warm jacket provide the tasting room's cozy atmosphere.
On Friday night, large tea lights were strung like lanterns on exposed wooden beams above the bar. They cast a gentle glow over the potted wildflowers, bowls of popcorn and cider sippers who chatted over amber-hued drafts of Wedded Bliss and Basque.
Julia Clancy
Menu at Shacksbury Cider's tasting room
Dolginow, who was behind the bar, pulled a draft of Wedded Bliss, Shacksbury's new, limited-release blend. The cider appeared lit from the inside, glowing in its tulip glass like a hazy farmhouse ale. The unfiltered cider is pressed from organic apples from
Golden Russet Farm
in Shoreham, then naturally conditioned with native yeast and aged on lees for 10 months. It was bone-dry and tightly sparkling.
And it was damn good with that herbed popcorn.