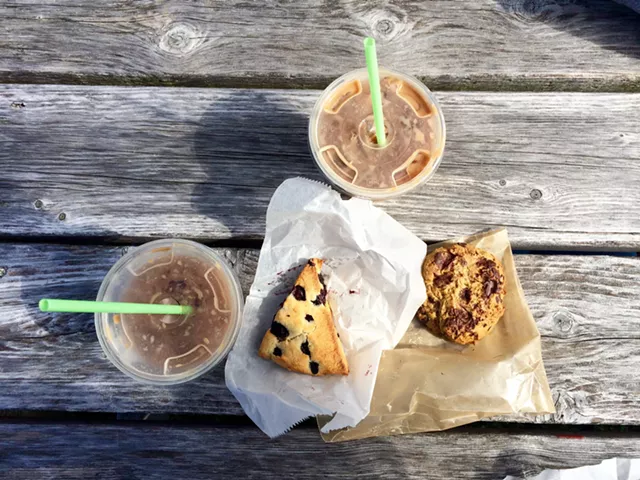 Julia Clancy
Iced maple mochas, blueberry scone and pumpkin-chocolate chip cookie at Blank Page Café
Follow the curved dirt pathway off Cheese Factory Road in Shelburne and you'll reach the farmstand at
Bread and Butter Farm
. Open the screen door and walk past the fridge stocked with grass-fed beef, the crates of apples and new potatoes, the table of late-season tomatoes and the reach-in cooler lined with raw milk from
Henry's Dairy
and
Sobremesa
kimchi. There, you'll find
Blank Page Café
, a pop-up coffee shop from partners Michael Proia and Katie Horner.
Blank Page opened at Bread and Butter Farm last fall, but, beginning this week, the café has extended its limited hours to serve Proia's coveted butter coffee and gluten-free pastries Monday through Saturday.
"My presence [at Bread and Butter Farm] is about having an enhanced total experience," says Proia. "The farm is a place where people can come to connect with food in a unique way. It's about being at a point in the supply chain where you can truly engage with people at all angles."
Proia moved to Vermont in 2013 to complete the
Farmer Training Program
at the University of Vermont, and quickly fell into step with the Bread and Butter crew. A love of coffee and food culminated in a café that remained on the farmstead, a spot more table-to-farm than farm-to-table.
Last Wednesday, a trio of pastries lined the hardwood coffee counter as Proia checked the timer on the pumpkin-chocolate chip loaves rising gently in the oven. The farmstand was perfumed with nutmeg and coffee and the sweet-bitter smell of cacao. At noon, the ginger-lemon cake was already gone, but a pile of blueberry scones and a few pumpkin cookies waited enticingly on a cake stand.
Everything at Blank Page is made without gluten. With the help of alternative flours such as chestnut, almond, cassava and coconut, grain-free options abound as well.
"Food's an emotional thing," says Proia as he pours cold-brew coffee — made from El Salvador Monte Verde beans from
Brio Coffeeworks
— over ice with local maple and chocolate. "I mean, you have these instinctual needs for water, shelter, food and fire. Take one of those away and there's a deep visceral reaction."
Julia Clancy
Iced maple mocha in the works at Blank Page Café
Though Proia considers the things we consume to have an overt purpose beyond "fueling the machine," he recognizes eating and drinking as "performance-enhancing tools" that can be used to one's advantage. Take butter coffee, for instance.
"Coffee is a ritualistic part of one's routine, right?" he says, spooning a swath of
Mountain Home Farm
's grass-fed butter into a blend of Maple Butter coffee. "But it's also a tool to enhance your emotional state or physical capacity. It's a way to connect with your community — even a way to enhance the cognition of your spiritual self."
Butter coffee is a drink popularized by the Paleo diet and scientific studies lauding the benefits of eating fat. To Proia, the concept makes particular sense in a state replete with small dairy farms and a
budding coffee movement
.
"In Vermont, I can get grass-fed butter from Mountain Home Farm and beans from Brio Coffeeworks," Proia continues. "I can get local maple syrup and honey, local and organic dairy, pasture-raised and GMO-free eggs, nut flours, local blueberries for scones, local ginger for cakes…"
Proia is cut short by the buzz of a timer. He walks to the back oven to check on the pumpkin breads, pressing gently on their chocolate-flecked tops to test if they're done. Beside him, some roasted local potatoes lay on their tray — slumped, caramelized and ready for skinning.
"Those are for my grain-free, double dark, super-fudgy sweet-potato brownies," says Proia, nodding toward the sweet potatoes. Perhaps it's the smell of pumpkin bread, but the farmstand is beginning to fill with people. Happily for patrons, there are now two more days in the week to savor a mocha-butter coffee or a slice of lemon-ricotta polenta cake on the picnic tables overlooking a field of Jersey cattle.
"Take your treats around the corner," suggests Proia from behind the counter. "You can see the farm's new piglets."