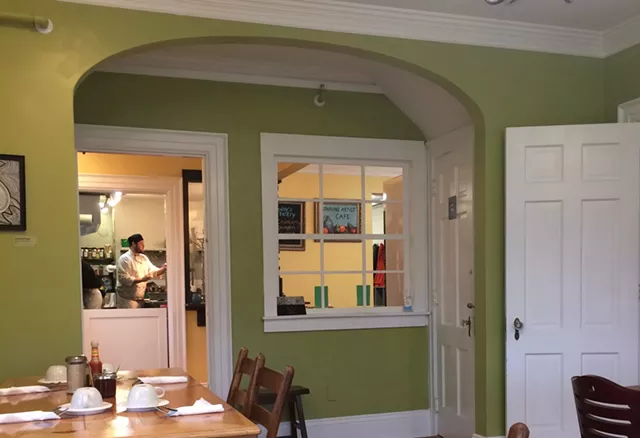 Suzanne Podhaizer
Starving Artist Café
At the
Starving Artist Café
, located inside the
Davis Studio
on Shelburne Road in South Burlington, hungry brunchers can dine on Whistler's Mother's Oatmeal, laced with brown sugar and pumpkin seeds, or dig into Matisse in Morocco — poached eggs with harissa-stewed tomatoes and homemade pita.
The studio, founded and owned by Teresa Davis, offers kids' art camps, as well as teen and adult classes in a variety of media, including millinery, fused glass, watercolor and photography. Originally, the on-site kitchen was used only to feed the artists and perhaps their parents. In early September, the café opened to the public, presenting a selection of snack plates, soup, salad and a build-your-own breakfast sandwich. Brunch, with dishes named after the masters, began on September 25.
Davis' son, Jonathan Davis, is the chef. "I come from a very artistic family, and cooking has always been my art form of choice," he says. Jonathan began cooking when he was 8 or 9, he recalls, but he decided not to go to culinary school on advice from his mentors. Instead, he taught himself and learned on the job. Participating in the family business was a natural fit.
"Brunch is something I've done a lot of," the chef says. "I wanted to create a menu that maintained some of the local element but is different from some of the other options you can get in Burlington."
Sure enough, the Starving Artist Café is the only place around that serves Vincent van Goghgurt and Pablo Picasso's Palettable Pancakes.