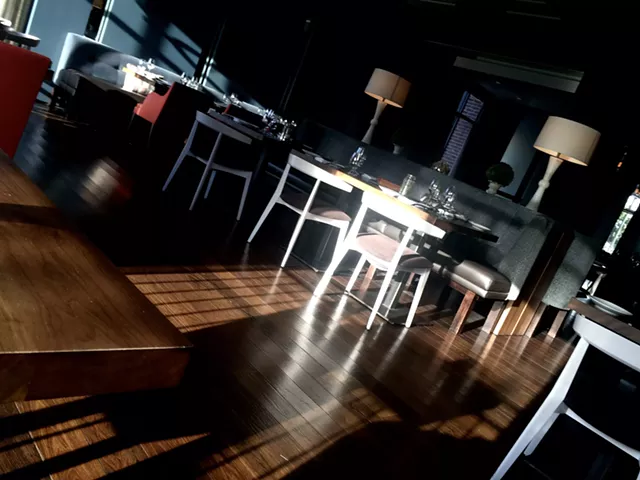 Suzanne Podhaizer
The dining room at Bleu
I'm not much of a drinker, so it's a rare evening that I "need" to get a cocktail. But one of those evenings occurred last week. Sitting alone at a bar and sipping something bracing seemed like just the thing to improve my mood. I guess I was feeling a little Bleu.
Bleu Northeast Seafood
, that is, which is located in the Courtyard Burlington Harbor.
Suzanne Podhaizer
Garden Tonic
As at Hotel Vermont's
Juniper
, Bleu's kitchen is helmed by Chef Doug Paine. He's known for his dedication to well-sourced fare from land and sea, as well as for his skill at creating beautiful plates. I thought I might as well have a bit of seafood along with my drink, and so I moved into the dining room.
I ordered smoked Atlantic shrimp with heirloom-tomato cocktail sauce, and fried whole-belly clams with pickled red onion and capers. Then I scanned the menu looking for a beverage. The barrel-aged maple Manhattan sounded delicious, but perhaps too sweet to be sipped with the snacks.
Since I rarely have more than one alcoholic drink, I like to make 'em count. The Garden Tonic sounded like a libation with impact. Made of cucumber vodka, celery bitters and thyme — with a little simple syrup to ease the bite — it was perfectly balanced and refreshing. The astringency of the herbs, in combination with the lime-juice tang, meant that the drink served as an apt palate cleanser without crossing the line into bitterness. It played nicely with the shrimp dish, and cut through the "friedness" of the clams.
After this I decided to try the paella with perfectly crisped Starbird salmon, as well as scallops, mussels, chorizo and peas. And then I thought, perhaps I'll have a scoop of strawberry-balsamic sorbet, just to end things on a proper note.
And, a little bit like the tale of Stone Soup, that is how a "drink" became a meal.