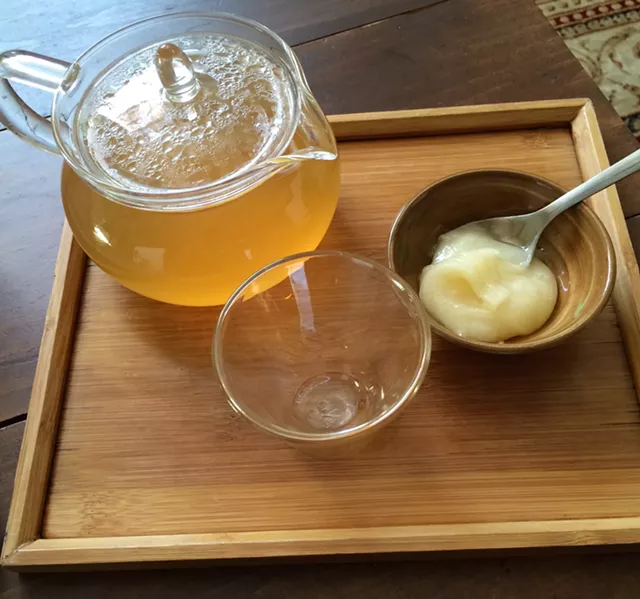 Julia Clancy
Ginger tea and raw honey at Stone Leaf Teahouse
Though the basil is still bolting in my garden bed, it's official: This Thursday is the first day of fall. Taupe-colored butternut and Crookneck squashes are arriving at the grocery store, along with fresh-picked apples and pressed ciders. Leaves are turning along Route 7. Pint-sippers are starting to switch from pale ales to pumpkin brews and stouts. Mornings come with a crisp reminder: I should have closed more windows in the house.
It's the time of year for a hot cup of tea. We've heard before that Vermont is quietly
becoming a coffee superpower
, from big hitter
Keurig Green Mountain
to small-scale artisan roasters like
Brio Coffeeworks
. I love a good cup of dark roast, but as we head toward chillier days, my Irish heritage creeps in and I find myself craving Barry's Gold Blend and honey. Of course, most of my Irish relatives are devout Bostonians with a preference for Dunkin Donuts. The voices of my County Cork friends ring clearest on the matter.
I remember my pal Sorcha telling me, "I'll fix you a cup of tea," in our cottage kitchen in Shanagarry, Ireland, after a long day. "Tea'll always cure what ails ya."
Here in Vermont, my favorite stop for a luxurious cup is
Stone Leaf Teahouse
in Middlebury. Tucked behind
American Flatbread
in the Marble Works, the tiny shop has one of the most extensive tea lists in the state. Inside, the space is peaceful and softly lit; college students bang out papers in hushed corners and locals chat over pots of Oolong and mugs of brewed-to-order chai.
Upstairs, a lofted tearoom with low-top tables and floor cushions offers more room for relaxation — customers leave their shoes at the bottom of the staircase. There's a modest pastry display by the register with rotating treats from Addison County artisans
Daily Chocolate
and
Middlebury Chocolates
. Other goods include housemade bites such as rosewater cookies and lemon-Matcha tea cakes.
Stone Leaf is run by husband-and-wife team John Wetzel and Samantha Isenberger. They've circled the globe for their tea studies, visiting respected gardens and teahouses across Vietnam, Japan, China, India and Nepal. They opened up shop in Middlebury in 2009 to share their findings with fellow Vermonters.
The tea list at Stone Leaf is a beautiful thing — vast but well curated. There are rich Assam varieties and first flush Darjeeling from the couple's recent journey to Gopaldhara Tea Estate in India. There's Holy Nilgiri, a smooth blend of Nilgiri black tea and sweet-savory herbal Tulsi; and an iced Matcha green tea spiked with maple syrup for warmer days.
My recent pick is an herbal brew: deep, fiery ginger tea with a side of raw honey. Half the honey is steeped in the pot; the other half I lick from a teaspoon, enjoying every coarse, floral crystal.
"I buy the raw honey from a few local beekeepers," says Wetzel. "My first job was working for a beekeeper, doing grunt work. That's how I got to know a lot of these guys."
In that sense, Wetzel garners his fragrant raw honey like he and Isenberger gather tea leaves: with face-to-face dialogue, perseverance and excellent taste.