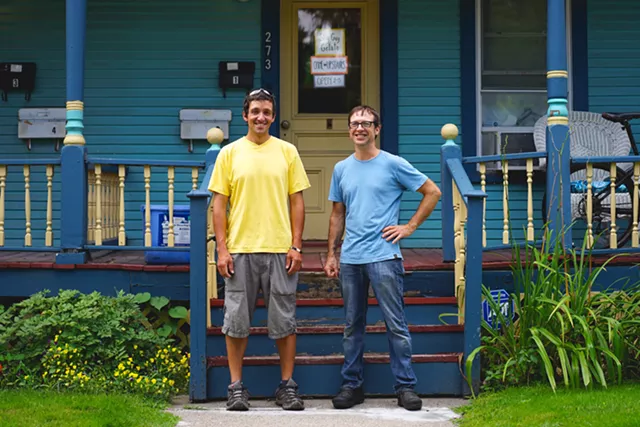 Nick Bucci Photography
Paul Sansone and Tim Elliot of Shy Guy Gelato
On a recent Friday, I stopped at Shy Guy Gelato's newly opened scoop shop at 457 St. Paul Street, five minutes before closing. In June I had
previewed
the gelateria's early-July opening, psyched at the prospect of a boutique gelato business churning daily-made scoops on my route home from work.
What's more, the Shy Guys behind the biz are Tim Elliot, cofounder of Burlington's popular lunch spot,
Zabby and Elf's Stone Soup
, and Paul Sansone, an Italian American Vermonter who gained his culinary training in Abruzzo, Italy. The prospects looked good.
I had gelato on my mind since 9 a.m. the previous day, but a cooking event on Friday had me heading to St. Paul Street precipitously close to 9 p.m. — closing time. But I was determined to make it.
As I approached the gelato shop's wiry swinging door, a 10-year-old boy came careening around the corner.
"Is he open?" shouted a second 10-year-old behind him. "Did we make it?"
The first boy couldn't answer; he was doubled over with his hands on his knees, panting. Gelato maestro Sansone smiled at him from behind a small ice cream cooler. The kid, regaining his breath, tried the door. Open sesame! He yelled to his friend, who was plodding up the hill like it was the summit of Mount Mansfield. The kids were beaming. So was I.
The three of us entered Shy Guy in the nick of time. The boys ordered first while I scanned the roster of flavors. The gelati waited serenely in their steel tubs behind the cooler's hood. There was a blushing pan of strawberry-Thai basil and cream-colored lemon cardamom; swoops of banana gelato churned with milk chocolate; rustic, khaki-hued pistachio — the proper color for a true pistachio gelato — and fior di latte as bright and clean as a wedding dress.
"Try this," Sansone suggested from behind the bar. He handed me a spoonful of the dense Mexican chocolate sorbet. A slow, gentle heat arose in the back of my throat as undertones of chili and cinnamon unfolded.
A sample of two other sorbets — grapefruit and mango — proved Sansone's artistry in the craft. In a good way, it was as if the grapefruit sorbet was never churned at all; as if Sansone snapped his fingers over a grapefruit and it sprang into gelato form. It tasted
exactly
of the citrus itself, as though I were eating the coldest, creamiest and most fragrant grapefruit one could ever hope to find in Vermont.
The actual gelato-making process is evident in the gelateria's open kitchen. On a table in one corner, five ripe melons sat beside a blender, ready to be whipped into the next day's sorbet. Glass doors on the refrigerators in the back revealed flats of berries and cartons of milk from
Monument Farms Dairy
. Near the sink was the pièce de résistance: an Italian-made standing gelato maker.
"Do you know what you'd like?" Sansone inquired to a waiting customer.
"Yup, I know
exactly
what I want," she responded. "Pistachio, please. Actually, can I have it in a pint?"
I settled for two scoops — one pistachio and one lemon cardamom — while my companion got a scoop of fior di latte. The cream was like velvet: thick, luxurious and cool, not cold, so the flavor was vibrant in every lick. My date and I swapped bites. Fior di latte tasted of just-pulled mozzarella, young and barely sweet. Each of the flavors had a slight, satisfying salt backbone, as well, which Sansone creates intentionally.
"I like to add a bit of salt to my recipes," he said. "The gelato shouldn't be too sweet — there's a depth of flavor there."
Yesterday's gelati were packed away in pints for today's purchasing, the flavors scrawled on a whiteboard. I took a pint of sunbutter gelato home. When I exited Route 7 South 50 minutes later, it had come up to its perfect temperature, and its texture balanced that gelato-specific line between hard and soft ice cream.
I ate a spoonful standing over the sink in my kitchen. Then another.