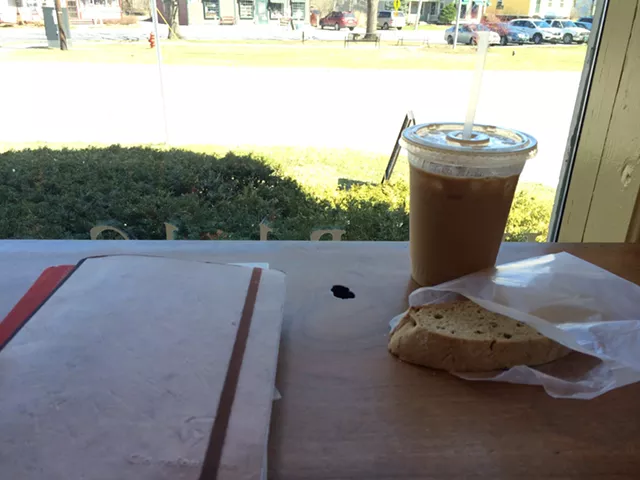 Julia Clancy
Iced coffee and maple walnut biscotti at Village Wine and Coffee in Shelburne
Biscotti are seemingly simple staples of coffee breaks. The durable, crusty cookies are used to soak up a cup of dark roast or cold brew sweetened with cream. With a bit of liquid, they become pliable and palatable. I've never liked them.
Let me rephrase that: I've never liked the ones found in many cafés, where biscotti sit for weeks in a glass jar becoming ever harder, ever drier and ever more "biscotti-like." Biscotti get a bad rep next to tender-crumb scones and croissants, butter-permeated from the inside out. While toast springs from the oven warm and fresh and ready for jam, biscotti sit dejectedly in jars. But this is not how it was meant to be.
In density and texture, good biscotti are more akin to a well-baked baguette than a hockey puck; they should be perfectly baked on all sides for a caramelized, toothsome exterior and a chewy but limber crumb.
When I lived in Bologna (and don't get me started on good bologna), my Calabrese roommate would make orange-almond biscotti when anxious for exams. They were the best. I'd take two in a paper napkin to the piazza near UniBo and settle on the raised sidewalk near the graffiti-flooded portico to Via Castiglione. There, a friend and I would split a bottle of Pignoletto frizzante and nibble our biscotti to procrastinate on homework.
It was a weekend routine I coveted like morning coffee or an afternoon walk, and I've been searching for biscotti good enough to fit the bill ever since.
I know: I can make them at home. But the double-baking thing is an inexplicable roadblock — inexplicable because I have no problem spending 10 minutes over a double boiler hand-whisking zabaglione. But I can't seem to get on board with bake, slice, bake. I've tried twice — and my biscotti suck.
For the best homemade biscotti I've tasted since my days of putting off
storia d'arte
finals, I recommend
Village Wine and Coffee
in Shelburne. Try the maple walnut. Pair it with an iced coffee and cream or a hot, frothy cappuccino. Relax by the window seat benches and do anything but homework.
A biscotti-and-coffee pick-me-up like this warrants going phoneless and workless.

Breakfast Club is a series that explores what we eat in the morning. Do you have a favorite? Drop us a line at food@sevendaysvt.com.